Graeme McWilliams: The Scottish Legal Walks continue to expand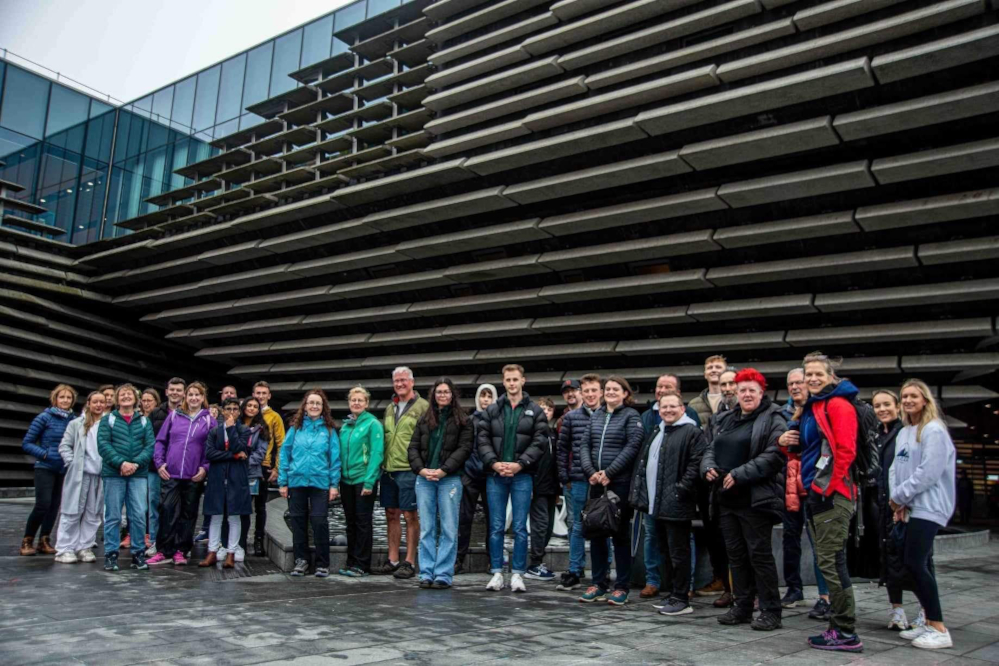 In 2013, I was an in-house lawyer with Standard Life, on the Law Society's In-House Lawyers Committee, and heard about an inaugural Scottish Legal Walk in Edinburgh. This Access to Justice Foundation event, in aid of local legal advice charities, was on the first of October that year.
I went along to the Edinburgh University Old College Quad that Tuesday evening, where I was introduced to Rebecca Samaras, the local organiser. Austin Lafferty, the past president of the Society, addressed the walkers, and after an enjoyable walk around the sights of Edinburgh, we gathered in the Edinburgh Holyrood hotel for refreshments, and heard further from Lucy Thornton, SYLA and Robert Sutherland, Advocate.
Nine years on, I was retired and on all three Scottish Legal Walks 2022 in Dundee, Edinburgh and Glasgow. I'm hoping to do this again this year and join the inaugural Legal Walks in Aberdeen and Falkirk. We are hoping to mark the special 10th anniversary of the Scottish Legal Walks in Edinburgh on 4.10.
The Access to Justice Foundation Scotland is a Scottish registered charity, which is delighted that the Law Society of Scotland and the Faculty of Advocates are national sponsors of the Scottish Legal Walks 2023, and we are really looking forward to our five Scottish Legal Walks this year.
Our 2023 Scottish Legal Walk timetable is:
The inaugural Falkirk Legal Walk is at noon on Sunday 24.9
The Glasgow Legal Walk is on the evening of Tuesday 26.9, sponsored by the Royal Faculty of Procurators in Glasgow,
The Edinburgh Legal Walk is on the evening of Wednesday 4.10, sponsored by Addleshaw Goddard,
The inaugural Aberdeen Legal Walk is on the evening of Wednesday 11.10, sponsored by Addleshaw Goddard, and
The Dundee Legal Walk is on the afternoon of Sunday 22.10, sponsored by Thorntons.
There is more event information available here.
The Right Honourable Lord Tyre, a great supporter and lead walker for the Edinburgh Legal Walk said: "The Edinburgh Legal Walk has become an annual fixture, affording practitioners and students alike an opportunity to raise funds and show support for access to justice and the provision of free legal advice and assistance. It has been my privilege and pleasure to join these walks and to see for myself the enthusiasm of the participants for the contribution they make to the vital resource of provision of legal advice to those who would not otherwise be able to obtain it. I am delighted to congratulate the Walk on its 10th anniversary."
Austin, who's still involved in the Glasgow Legal Walk, said: "The Legal Walks are a combination of gentle exercise, collegiate effort, fundraising and support of access to justice. In Glasgow it's a sightseeing stroll, and we the top it off with drinks or tea at the Faculty Hall on completion. Whatever your connection to the law, you, your family, friends and dogs, are welcome and encouraged to participate as individuals or in teams."
Rebecca, who's now an ATJF board trustee and chair of the Access to Justice Foundation Scotland committee commented: "When we organised the first Scottish Legal Walk, we never envisaged that, 10 years later, we would be celebrating in not one, but five Scottish locations. The success of the Legal Walks and indeed all other ATJF fundraising events is testament to the support of our legal profession, our law students and all those who campaign for access to justice. Let's see what we can achieve in another 10 years!"
I was really inspired by my inaugural Edinburgh event, which was great fun and a real networking opportunity. Access to justice should be available to all, and our Walks this year help to to raise essential funds.
Since 2021, these sponsored events, teamed with other strategic development work from the Access to Justice Foundation, have raised nearly £1 million which has been distributed through 53 grants to local legal advice charities which support the provision of vital legal advice to individuals and communities most in need throughout Scotland.
The impact of this investment has been profound, transforming the lives of children facing poverty and homelessness, women escaping abuse, individuals experiencing discrimination based on gender and race, people with disabilities, and others who have faced exclusion.
It's not just about walking though, as the Great Legal Quiz is on 29.11, and the Great Legal Bake is from 6 to 10.11, which is also Pro Bono Week 2023 (more info here).
Graeme McWilliams is fellow of the Law Society of Scotland and Access to Justice Foundation Scotland committee member (gmmcw@aol.com).