UK government threatens to take Holyrood bills to Supreme Court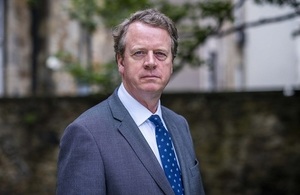 The UK government has threatened to go to the Supreme Court to overturn two pieces of legislation which were unanimously backed by MSPs.
MSPs last week voted unanimously for the United Nations Convention on the Rights of the Child (Incorporation) (Scotland) Bill to become law, making Scotland the first part of the UK to directly incorporate the UNCRC into domestic law.
However, Scottish Secretary Alister Jack yesterday wrote to Deputy First Minister John Swinney to set out his government's view that the "legislative competence of specific provisions in the UNCRC Bill is in doubt".
Mr Jack said section 6 of the bill could be seen to place legal obligations on UK government ministers in reserved areas, and sections 19 to 21 would affect Westminster's power to make laws for Scotland.
He added that the government has similar concerns about sections 4 and 5 of the European Charter of Local Self-Government (Incorporation) (Scotland) Bill, which also won unanimous backing from MSPs on Tuesday this week.
Under the Scotland Act 1998, UK government law officers have four weeks from the passing of a bill to formally consider the legislation on legislative competence grounds. If the law officers consider a piece of legislation to be outwith the competence of the Scottish Parliament, section 33 of the 1998 Act allows them to refer the legislation to the Supreme Court for a ruling.
Mr Jack said: "It is for the Scottish government to set policies in devolved areas, but the Scottish Parliament does not have the power to constrain the UK Parliament in the way that it legislates for Scotland. Nor can it place legal obligations on UK government ministers acting in reserved areas.
"We have concerns that certain provisions in these bills are outwith the competence of the Scottish Parliament, and I have written to the Deputy First Minister to reiterate my concerns and set out the process going forward."
A spokesperson for the Scottish government said: "All parts of the UNCRC Bill are within the legislative competence of the Scottish Parliament.
"The changes proposed by the UK government would significantly undermine the protection for children's rights in Scotland that the bill seeks to put in place, threatening to undercut both the important measures contained in the legislation and key principles of devolution.
"These changes would mean that crucial provisions in the Bill would not apply to major pieces of legislation that fall within the legislative competence of the Scottish Parliament and which are key in relation to children's rights. This would include the Children (Scotland) Act 1995, the Education (Scotland) Act 1996 and the Children and Young Persons (Scotland) Act 1937."