The Margaret Taylor Interview: Truth stranger than fiction in Willie McIntyre's world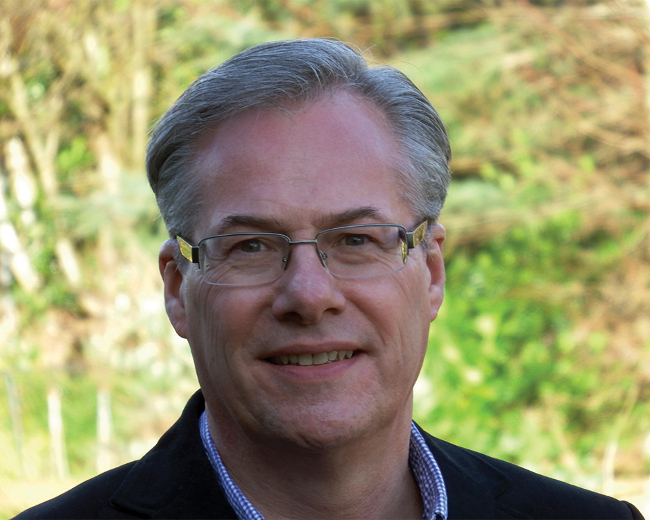 Criminal defence work may be a tough gig, but for an aspiring writer of crime fiction it has one key draw: it throws up a huge amount of material to work from. Indeed, when Russel & Aitken partner William McIntyre decided to turn his hand to novel writing a little over a decade ago he found he had no shortage of ideas to run with. It is perhaps unsurprising, then, that his protagonist – Robbie Munro – is a criminal defence solicitor who, like Mr McIntyre, works from a high street office in a central Scottish town.
"Every chapter starts with a scene in which I've been personally involved," Mr McIntyre says. "Things people say incorporate themselves into the books, even in a minor way."
The Falkirk-based solicitor tries to keep his plotlines as true to life as possible and his books are all loosely based on cases he has worked on. The first – Relatively Guilty – was inspired by two murder cases he had defended. The seventh – Present Tense – borrowed its plot from a rape case he was involved in with the late Paul McBride QC.
"The names are different and it's all slightly altered, but if you're looking from the outside you might say 'I know what case he's talking about there'," he says. "It's all public record, though, and I don't say anything about what the client said. I don't like doing anything that would too be readily identifiable."
One aspect of the novels he believes criminal defence solicitors will not recognise as true to life is the way their protagonist goes about his job, funding in-depth investigations on behalf of clients solely from a legal aid income.
"The problem I have with my books is that the hero Robbie Munro is a legal aid lawyer but he also does a lot of investigative work," Mr McIntyre says. "I try to keep the books realistic, but he couldn't do what he does because all his clients are on legal aid."
Like many of his criminal defence colleagues, Mr McIntyre has been highly critical of the legal aid system in recent years, lamenting not just the rates of pay solicitors can expect for carrying out publicly funded work but the fact that certain things cannot be billed for at all. Robbie Munro may go the extra mile for his clients, but Mr McIntyre feels that in reality few legal aid solicitors are now able to do the same.
"You just can't prepare a case like you used to be able to back in the day," he says. "So many things slip through the net because you can't afford to pay for them."
By way of example, Mr McIntyre points to a case he worked on where a key part of the evidence against his client was that, after committing a murder, he had travelled to another town to buy a new shirt from a branch of Marks & Spencer. The Crown's case turned on the client being able to make it from his home town to the shop ahead of it closing at 5.45pm. Mr McIntyre's secretary spent a significant amount of time tracking down a former security guard who confirmed that at the time of the murder that store closed at 5.30pm and would have been empty of all customers by 5.25pm. It was a pivotal finding that led to Mr McIntyre's client being acquitted, yet because of the way the legal aid system works he was barely able to bill for it.
"My payment for getting that information was £11.55 because all the work my secretary did tracking down this guy was classed as administrative work and you can't get paid for admin work," he says. "As it happens it was a huge part of that case because it blew apart a statement from a witness who had said he saw my client in Marks & Spencer covered in blood buying a new shirt."
Though he says he feels he "can't get away from moaning about legal aid", Mr McIntyre says such experiences mean he has all but stopped doing publicly funded work, preferring to focus his practice on more economically viable matters instead.
"We're pulling away from legal aid criminal work," he says. "About three or four years ago we did a study to see who was doing what and how much we were making. People like me were spending two-thirds of our time bringing in a third of our income.
"I do other things as well and I realised that if I stopped doing [publicly funded] criminal work I might take a one-third pay cut but I'd be working two-thirds of the time. We're fortunate because we have a lot of private client work so it was very straightforward for me to say 'cheerio legal aid'."
When solicitors take such action it has obvious implications for the concept of justice for all, with Mr McIntyre noting that his firm now regularly has to turn away people with genuine legal issues, telling them that they will have to try to find someone else to represent them.
"They won't find someone else and [if it's an employment case] might be up against a big supermarket that can pay someone at a big commercial firm £600 an hour," he says.
At the same time, because Russel & Aitken and its counterparts on the Falkirk & District Faculty of Solicitors withdrew from the police station duty rota two years ago, Mr McIntyre says there are now instances when people accused of committing a crime are unable to exercise their statutory right to call for a lawyer.
"The Falkirk Faculty just doesn't take police station calls at night," he says. "The police either know they won't get anyone so they don't interview them at night or they tell them they won't get a lawyer so will have to wait until the next day or talk to them without a lawyer. That seems to be the way it is."
Such attitudinal change on the part of solicitors is also having a knock-on effect on the way the profession operates on a business level, with Mr McIntyre noting that those at the start of their careers no longer want to shoulder the responsibility of owning their own firm. This, he says, is a complete turnaround from the way those of his generation thought when starting out.
"When I interview new lawyers for a job, they don't want to be partners in a high street firm; they want to come in, do the job and go home," he explains. "It used to be a big attraction, saying there are partnership opportunities, but no one wants to be made a partner any more.
"I think the younger ones coming through have a different idea of what it means to be a solicitor than people like me did at the time. I took over criminal work at 25 when legal aid fees were good and I was a partner at 28.
"At that time legal aid fees were two-thirds of private fees – they made it that way because you knew you would definitely get paid while with private fees some people didn't pay. You could make good money then."
Mr McIntyre admits he has "genuine concerns for the future" if, like him, other lawyers choose to shun legal aid work too. However, he says that rather than working in a system he sees as restrictive he would prefer to be in a position where, like his fictional hero Robbie Munro, he can turn over every stone on behalf of his clients and not have to make compromises based on cost.
"My concern is that we'll end up with government lawyers [the Public Defence Solicitors' Office] defending people and that they'll feel the same pressures to do things in certain ways and to make certain compromises that if you're a private lawyer you'll say 'no, I'm not doing it that way'," he says.
Back in the world of fiction, it looks like Robbie Munro might also be thinking of distancing himself from the world of legal aid. Though Mr McIntyre has 11 novels under his belt – five self-published and six under the imprint of Inverness-based Sandstone Press – he notes that Bad Debt, which came out this month, may well be his last.
"I've found a new hobby – wood turning – and that's the problem," he says. "I got into that because of lockdown. It was my 60th birthday and my wife bought me a lathe and my sons bought me the chisels and whatnot. It's extremely relaxing, although the house is now full of wooden bowls; there's a huge number of bowls."