The Margaret Taylor Interview: Jodi Gordon on her route to success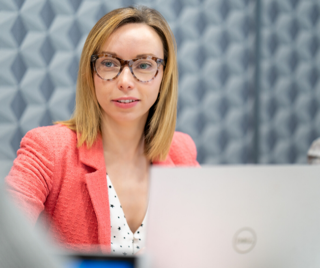 As a sports-mad youngster with an obsession for TV show Ally McBeal, Jodi Gordon's main ambition when she was growing up was to find a job that would allow her to combine her love for both. After studying at the Universities of Aberdeen and Edinburgh and beginning her career at personal injury law firm Thompsons Solicitors, she found what she was looking for at Cycle Law Scotland, the specialist firm she has been a partner of since December 2018.
Like all her colleagues at the firm, Ms Gordon is a keen cyclist, something she believes gives her a unique insight when handling claims on behalf of people who have been injured when out on their bikes.
"I've got an upright Dutch bike for cycling around Edinburgh on – it's a big bike so I feel a bit more presence on that," she says. "Some insurance companies will say that you can go on eBay and buy a bike, but they don't understand that they come in different frame sizes or can have a particular specification put on them. Understanding how vulnerable people feel when they are on a bike helps you do your job."
The vulnerability of cyclists compared to other road users is a key component of the cases the firm handles, with Ms Gordon recently advising the family of Malaysian medical student Zhi Min Soh when they raised a civil action to help them make sense of their daughter's death. The 23-year-old Edinburgh University student was killed in May 2017 after falling from her bike into the path of a 16-seater tour bus operated by holiday company Rabbie's Tours. Though the exact details of the accident are unclear, and while there was no finding of criminality on the part of the driver, the bus company's insurer agreed a confidential compensation payment on the basis that the driver had been negligent.
"Insurers look at the actual facts in evidence and in this case they said there were no criminal charges against the driver, but once it's litigated they have to look at it in terms of the law of negligence," Ms Gordon explains. "[From the family's point of view] their daughter was going to work one day at the hospital and now she's no longer here. They needed to understand what happened and that's why they brought the civil action.
"I've done radio phone-ins where people look to lump all cyclists together, saying they don't wear helmets or jump red lights. This case was important because it was about showing the person. She was 23 years old, she was a daughter, a sister, a medical student. She wasn't a cyclist but a person and this happened to her.
"We see time and time again that people are not looking for money because no amount of money brings back their loved ones. The family's focus has always been on avoiding something like this happening again by letting drivers know that cyclists need more space. If drivers pay more attention to vulnerable road users then we can prevent things like this happening."
Finding ways to make drivers take greater heed of other road users is something Cycle Law Scotland has been campaigning for since the firm was set up by senior partner Brenda Mitchell a decade ago. Having specialised in claims arising from road traffic accidents while a partner at both Thompsons and Digby Brown, Ms Mitchell had become convinced that presumed liability should be introduced in such cases to make it easier for those who have suffered catastrophic injuries to get redress.
To do so would require a change to existing laws, something the main political parties have so far shied away from backing. For Ms Gordon, however, it is only when that change is made that drivers are likely to start rethinking their behaviour in order to make the roads safer for everyone who uses them.
"We have always campaigned for presumed liability so the presumption of fault in civil law would be on the person with the larger vehicle," she explains. "A lot of people who are behind the wheel of a vehicle – or people that are cycling or walking – will do things on the road that they probably ought not to do, but [presumed liability] would make drivers think 'if I'm involved in a collision with a bike I'm going to be presumed liable'.
"Brenda started lobbying government on this in 2013 and we are pushing for it every day, but there's a lot of resistance when it comes to motor insurance industry lobbying. There's a lot of misunderstanding that it's criminal law and presumption of guilt we're trying to change, when it's not.
"There are strict liabilities in other areas of law, such as if you have a dog and it bites someone or if you buy a kettle and it blows up the manufacturer would have to pay out. It's not a new concept in Scotland, but when it comes to road traffic it is not something that anyone has been willing to push for."
Currently each jurisdiction of the UK lines up beside Ireland, Malta, Romania and Cyprus as the only European countries not to have some form of presumed liability in place. With a Holyrood election looming, Ms Gordon remains hopeful it could find its way onto the Scottish agenda in the near future, though she stresses that to date only the Green Party has given the idea its backing.
"We've never had any other party get behind it as part of its manifesto," she says. "There have always been other things on the agenda and they say they need to sort the infrastructure first. A change of legislation would go some way to helping vulnerable road users, though, and infrastructure could come after."
Given the freedoms many families were able to enjoy when the first phase of lockdown brought most vehicular traffic to a standstill, Ms Gordon is hopeful that the 2021 election cycle will be the one in which changes can finally be made.
"Hopefully people who got out on the roads with their families knowing the roads were safer during lockdown will have got a taste for it and will understand what they're missing," she says. "I'm hoping it's not a missed opportunity and that it's still on people's minds."