SYLA to host diversity and inclusion roundtable tomorrow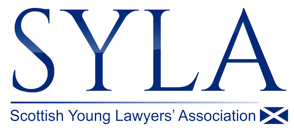 Thursday 25 November at 6pm
The SYLA is pleased to present the second of a two-part series focusing on diversity and inclusion within the Scottish legal profession, more specifically, the inclusion of BAME solicitors. The events will take the form of roundtable discussions.
The first roundtable examined access to the profession, and the second focused on progress. Our panellists will discuss progress (and barriers to progress) for BAME lawyers, and will examine what is being done, and what more should be done, to ensure equality of opportunity. We will also explore the intersectionality of this issue, with social mobility, and gender.
The panellists are:
Emmi Makiharju - Inclusion, Diversity & Belonging Manager at Ashurst
Tatora Mukushi - Solicitor and Convenor of LSS Racial Inclusion Group
Elaine MacGlone – Equality and Diversity Manager at the Law Society of Scotland
Emma Smith – Inclusion and Wellbeing Manager at Burness Paull LLP
Professor Maria Fletcher - Professor in European Law, Deputy Head and Employability Officer of Glasgow Law School
Brianella Scott - Solicitor at Harper Macleod LLP, LSS Racial Inclusion Group Committee Member, and SYLA Committee Member
Every one of us has a role to play in striving to ensure that the Scottish legal profession is reflective of the society in which we live.
Join SYLA tomorrow to find out more.