Stephen O'Rourke remembered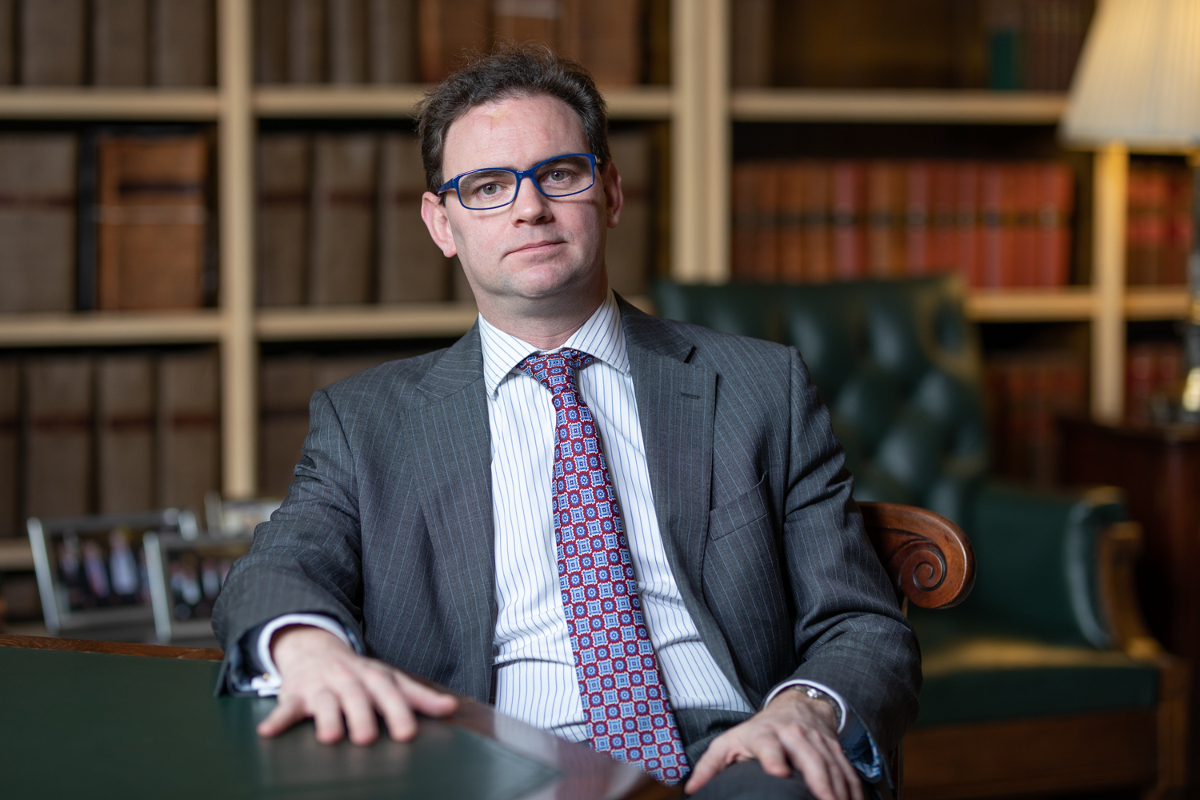 Today we include comments from Stephen's fellow members of Faculty and the wider profession. They attest to his kindness, intelligence and humility as well as the grief and deep well of feeling his death has brought to all who knew him.
Advocate Calum Wilson, who devilled with Stephen, said: "I had the privilege of being not only a colleague but also a friend of Stephen's. We first met some 20 years ago in 2001 when Stephen and I were two members of a close group of five who were all devilling together. We remained good friends. We all met and spoke regularly to each other, including online during the last 20 months of almost complete absence from Parliament House due to Covid-19, discussing our case triumphs and occasional failures."
He added: "Stephen's professional and literary achievements have been spoken to by many since his passing and speak for themselves, but in addition to being an impressive lawyer and a man of great intelligence and many talents, Stephen always embraced whatever he did with enthusiasm and energy. He was also a man of deep faith and loyalty. He will be sorely missed by his friends and all who knew him."
Alasdair Sutherland, a partner at Burness Paull, said: "No matter the circumstance, Stephen was someone you were always pleased to see. In court, out of court, at a dinner, or just a chance encounter on the street. Every occasion was better for Stephen being there. We will miss him."
Advocate Gordon Balfour commented: "Stephen was truly remarkable. He seemed to know everybody. He was universally liked – nobody had a bad word to say about him. And perhaps even more remarkably, he never had a bad word to say about anyone else.
"He always saw the best in people and had that rare ability of making you feel better about yourself. Just to be in the company of someone so intelligent, generous and funny was enough to give you a lift.
"My life was much better for having Stephen in it. I am heartbroken at his death."
Andrew Bowen QC described Stephen as "unfailingly considerate and kind, always eager to help and a great colleague".
Advocate Denis Garrity said: "Stephen was a wonderful friend and colleague who had time and talent for all who needed it – skilled, respected and liked in equal measure. He was also full of fun and laughter, and great company out of the courtroom. He will be sorely missed."
James Findlay QC said: "Having led Stephen to disaster in the Supreme Court, I am sure Rudyard Kipling would have been impressed how wholly unaffected he was, both by that disaster but also by his many triumphs. I certainly was."
Nicola Brown, of Blackadders, commented: "I instructed Stephen on a number of occasions and it was always a pleasure working with him. He was approachable and generous and possessed a brilliant legal mind. He was unfailingly kind and always willing to step in to help when clients were struggling."
Stuart Gale QC said: "His death has devastated all of us in our chambers – the clerking team and the members as well as in the wider Faculty and the profession. Stephen was a distinguished advocate and he was a thoroughly nice and good man."
He added: "Coming to terms with both the fact and manner of his death is difficult for us all but it will be as nothing to the loss and grief now being borne by those whom he loved and loved him. They are in our thoughts and prayers."
Angela Grahame QC said of Stephen: "He was compassionate, kind and non-judgemental of others and he was someone I felt I could always approach. I am desperately sad that he did not feel he could get the same support from me or others.
"I have never known such an outpouring of grief at the death of a member of Faculty. Even in death, Stephen has brought people together and many of us are sharing memories of him. He appeared to be riding the crest of a wave professionally, but his death reminds us that it is important we take the time to look behind the façade and listen to each other, especially at this busy time of year.
"His memory will remain with me throughout my life. He will be missed."
Vice-Dean of Faculty, Ronnie Renucci QC, said: "When someone dies it is not unusual for people to say nice things about them, what is perhaps unusual is that in Stephen's case the many tributes that have been paid to him are absolutely true. Stephen was a friend, a colleague and an accomplished advocate, but first and foremost he was a genuinely lovely person. His loss will be felt by all of us at Faculty for some time to come."
Dean of Faculty, Roddy Dunlop QC, said: "Stephen's passing has hit many members of Faculty, and in the wider legal community, very hard. He was a gracious man, entirely without conceit, who perhaps struggled to recognise his own talents.
"He was loved and respected across the board, and my greatest regret at this time is that he doesn't appear to have appreciated that. 'Lord Percy', his nickname amongst his many friends, will be sorely missed."
Robert Milligan QC, who was Stephen's principal devilmaster, said: "Unlike many intelligent and articulate people, Stephen was incredibly self-deprecating, as demonstrated by his nickname of Lord Percy, from the Blackadder series. As well as bearing a physical resemblance to the character, Stephen loved to play up to the clownishness of Lord Percy. Like many clowns, this may have hidden a sadder side to his personality, but to all who knew him, Stephen was unfailingly kind, considerate, caring and entertaining.
"I have never known a death to have such an impact on the whole Faculty of Advocates, or to be so widely mourned. He will be very deeply missed."
Deputy President of the Supreme Court, Lord Hodge, told SLN: "Stephen's untimely death is a great loss to the Faculty of Advocates, his family and his many friends.
"He was a very able counsel with great versatility as he practised successfully in diverse fields of the law. He was qualified both in Scotland and England; and his career was on an upward trajectory with his appointments this year as keeper of the Advocates' Library and as principal crown counsel.
"More importantly, he was a dear friend and inspiration to many who will miss him greatly. His death is a terrible reminder to us all to look after each other in these dislocated times."