Sheila Webster: My Ramadan visit to Edinburgh Central Mosque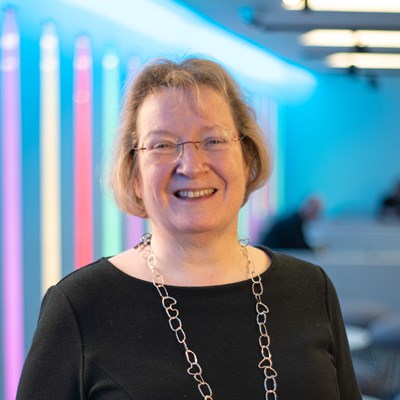 Law Society of Scotland president elect Sheila Webster reflects on a visit to Edinburgh Central Mosque.
It's always an honour to be welcomed with hospitality and generosity, and that's even more the case when it comes to events that hold special significance for your host. So it was such a pleasure to be invited with a group of Law Society colleagues, friends and staff to visit Edinburgh Central Mosque for the first iftar (breaking of the fast) for Ramadan 2023.
We couldn't have been made to feel more welcome from the very first moment we arrived at the mosque. I'd spent quite a few hours before my arrival, and caused quite a bit of distraction at work, trying to work out the best way to arrange a head scarf. But our host during our visit, Shaykh Amin Buxton, soon put us at ease by explaining that a head covering for women visiting was appreciated but by no means mandatory.
Before the visit I knew a little about how significant Ramadan is for Muslims, how the day-time fast that's observed during the month of Ramadan is one of the Pillars of Islam and how it's also a time for prayer, reflection, charity and community. But this visit really highlighted the difference in understanding between knowledge based on reading and knowledge based on experience.
We took our shoes off upon entering the mosque, and then were taken to a library, with the walls lined with shelves holding hundreds of leather-bound books that would put even the most well-furnished solicitor's office to shame. Shaykh Amin explained that one wall contained Arabic texts on Islamic law, including jurisprudence and case law. He then explained some of the basic principles of Ramadan, including the lunar sightings that mark its start and end, how the hours of fasting can vary markedly depending on what time of year Ramadan falls, and the five daily prayers that are observed.
Some of our group had fasted during the day to gain greater insight into the full experience of Ramadan. It was interesting also to learn about the alternatives for people who shouldn't be fasting, such as children and people with medical conditions. Shaykh Amin explained that fasting isn't meant to be about suffering, although it is meant to give you insight and empathy for the struggles of others.
It really added to the experience that Muslim colleagues from the Law Society and Faculty of Advocates were also there to share their own insights and answer our questions. Thank you to Naeema Yaqoob Sajid in particular for helping to organise our visit, and also to Omar Ali, Bilaal Shabir and Usman Tariq for contributing to the event's success.
We were then led upstairs to the mosque's main prayer hall. The first day of Ramadan is particularly auspicious, so the room was full of worshippers ready to break their fast. Mats had been laid out on the floor and covered in dates and bottles of water. A mat was similarly prepared for our visiting group in an alcove of the room. When the call to announce sunset came, we each took a date and a few sips of water. The fruit was delicious as it was, and I can only imagine how satisfying those first few mouthfuls of food and drink must be for those who've not had sustenance throughout the day.
The Maghrib (evening) prayer then began, which quickly explained another element of Islamic worship that hadn't previously been obvious to me, why men and women pray separately. This isn't prayer as we would recognise it in a church. The men in the main prayer hall were all kneeling together in a close bunch, with their shoulders touching, and it's quite a physical process as the prayers are recited by the Imam.
The hospitality we'd received so far was soon surpassed again with the final stop of our visit at the adjoining Aroma Café for our iftar (evening feast). A banquet of delicious savoury dishes was waiting for our group, including chicken, lamb and bean curries, with strawberry juice and water to accompany the meal. Shaykh Amin once again proved to be a most generous and attentive host, offering to refill our plates and ensuring we were enjoying our meals.
I can hardly believe how much I learned in a few short hours, and how much more appreciation I have for religious traditions that had previously been somewhat of a mystery to me. The evening really underlined how significant moments in peoples' lives should be celebrated and accommodated, by colleagues and by people more widely. To my colleagues, friends and all Muslims in Scotland, I say Ramadan Mubarak (Happy Ramadan) and wish you blessings for the rest of the month.