Scottish government offers only 'froth and rage' over gender challenge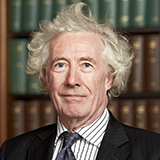 All we have heard from the Scottish government is "froth and rage" over the UK government's veto of the Gender Recognition Reform (Scotland) Bill, a former Supreme Court justice has said.
Writing in The Sunday Times, Lord Sumption says that "the suggestion that the UK government's veto is an attack on Scottish democracy is absurd".
The UK government has availed itself of section 35 of the Scotland Act to block the bill from receiving Royal Assent.
"Section 35 of the act is part of this scheme. It empowers the UK government to stop a Scottish bill from becoming law, but only if the bill deals with matters reserved to Westminster in a way that adversely affects how the law works. One of these reserved matters is equal opportunities," writes Lord Sumption.
He adds that the UK government is concerned that the bill create varying regimes for recognising gender reassignment in the UK.
"Trans people will be able to self-identify without satisfying the clinical tests that apply in the rest of the UK, and the minimum age will be reduced from 18 to 16. This is achieved by modifying the operation in Scotland of two Westminster statutes, the Gender Recognition Act 2004 and the Equality Act 2010, both of which apply throughout the UK.
"The changes will not apply in the rest of the UK, but that is heart of the problem. If the bill becomes law, some UK citizens will have a different legal gender in different parts of the UK, depending on where they happen to be."
The Scottish government's judicial review "will fail", he suggests, unless it can address these problems.
"But all that we have heard from them so far is froth and rage," the former judge writes.
He also says that the legislation is another example of the Scottish government strategically advancing bills that will cause constitutional conflicts.
He writes: "But for some years Scottish ministers have been promoting bills in Edinburgh designed to throw grit into the working of the Union in the few areas where there is scope for disagreement. The strategy is to nibble away at the matters reserved to Westminster in order to provoke constitutional rows, which they hope will boost support for independence."