Rob Marrs: Supporting Ukrainian lawyers and forming friendships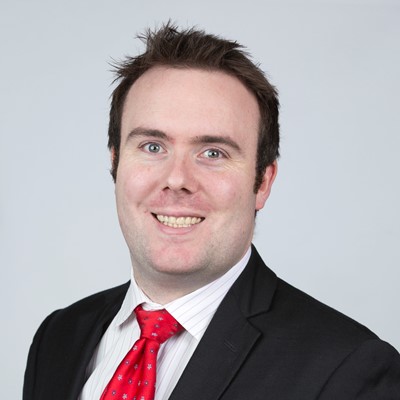 Rob Marrs, head of education at the Law Society of Scotland, details the support of the Scottish legal community for Ukrainian lawyers.
I'll confess that my knowledge of Ukraine prior to last year's invasion by Russia was limited. I knew the names of some of the cities. I had a vague idea that it was pretty big. Perhaps unsurprisingly, and a little shamefully, the thing I knew most about was their footballers, particularly the 1990s Dynamo Kyiv team and Andriy Shevchenko missing a penalty against Liverpool in Istanbul. If you had asked me to name the President of Ukraine I would have struggled to do so.
Like most people, I was and remain appalled by the invasion. The first news stories were astonishing. The idea of war in Europe – something perhaps too many of us thought was for the history books – was front page news and all too real. The scale of the West's response and the nuclear sabre-rattling of the Russian President seemed like something out of a film. Very quickly, the Law Society and wider legal profession responded. It seemed we were doing our little bit.
And then people started contacting me: "I know a Ukrainian lawyer who is looking to requalify here." A trickle of emails became a bit of a torrent. Dozens of Ukrainian lawyers were here in Scotland, and around the UK, and looking for help.
Our offer of waiving fees for displaced lawyers was a starting point. But my discussions with Alekandr Chernykh – the Ukrainian Bar Association representative here in the UK – soon made it clear that beyond needing assistance in passing examinations the Ukrainians who'd come here needed a sense of community. Many arrived in the UK to find they were the only Ukrainian person in their area.
Since the summer we have tried to build that community, mostly via WhatsApp. There are now more than 85 lawyers in the group and a constant stream of chat buzzes away. Events around Scotland (both legal and more general too) are shared, links and cases are discussed, social events (such as a memorable whisky tasting with Blair Bowman) have occurred and friendships are made.
To support us in all of this the profession has stepped up. So many have looked to help: the three biggest legal libraries have offered access to those Ukrainians (and other displaced lawyers) looking to requalify. Many firms and solicitors have given pro bono advice on immigration, setting up businesses, import/export and more besides. The lawyers from across the UK behind the Ukraine Advice Project in particular showed the world the very best of the legal profession. Many have given their time to discuss a particular area of law. Some have employed Ukrainian lawyers whilst others still have acted as hosts. An ex-City lawyer now running a TEFL school has offered free online legal English courses to any Ukrainian lawyer which has been hugely helpful.
To build on this community we began to hold lunchtime sessions on areas of Scots law – Professor Hector MacQueen, Professor James Chalmers, Professor Martin Hogg, Yvonne Evans, Graham Boyack, Malcolm Combe, Professor Maria Fletcher, Chris Nicholson, Sir David Edward KC, Professor Derek Auchie, Dr Jonny Hardman have all either given talks or are lined up to do them. These introductory sessions help displaced lawyers, meaning that at least for an hour or so they are lawyers again, learning about our way of doing things and considering cases or statues. We also hosted a session for employers to learn a little more about the benefits of employing displaced lawyers and how to do so.
In January, our colleagues at the Faculty of Advocates welcomed our friends from Ukraine and the many people in the profession who have helped to a reception. It was a great opportunity to have a glass of something and chat to others. Kenneth Young, Advocate, has also done a power of good in arranging work shadowing with members of Faculty – something I know is massively appreciated.
Over the year, I have got to know a number of the Ukrainian lawyers here very well. It has been lovely even while knowing that the circumstances that led to these friendships are deeply upsetting. Many would dearly like to return to Ukraine. Others worry about loved ones who are still there or who have family members or partners on the front line. It rather brings home the triviality of your own worries when someone apologises to you for missing a lecture because they had heard that a rocket had hit their home village and they were checking their family are safe.
To put the size of this group in perspective, if all of the Ukrainian lawyers in Scotland chose to requalify they would be the second biggest ethnic minority group in the profession.
Many are bright, highly qualified, multi-lingual lawyers who would add much to our profession. Many who wish to make a life in the UK are turning their eyes to Scotland because of the welcome the profession has given them. That, I think, is to the enormous credit of the Scottish profession.
The last year has been one of loss, tragedy, worry and turmoil for those Ukrainians who have found their way to Scotland. I remain in awe of their good humour, their resilience, their support of our work and their remarkable tenacity to make a new life in a world with a different language and a different alphabet. I hope that our efforts have made their journey a little easier. Alongside that, let us hope that in early course those who are responsible for this war face justice and that soon Ukrainians can live peacefully again.