Review: The Death of Consensus: 100 Years of British Political Nightmares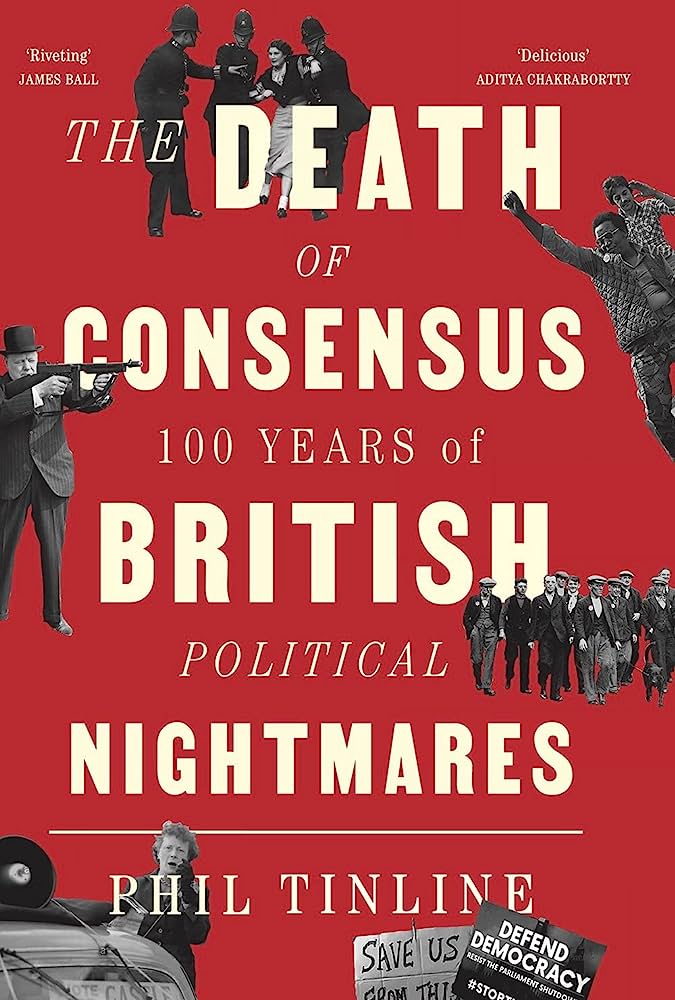 There is an aphorism to the effect that history is past politics, and politics is present history. In this study, journalist Phil Tinline considers some of the events, over the first century of mass democracy, when politics lurched from crisis to crisis. The aim is see how this history of political instability illuminates the current age of uncertainties.
Most of the events said to be important, however, are actually well within the living memory of many although, as we all know, recollections may vary, and so may the assessment of seriousness.
For the author, it cannot be said that politics is ever, somehow, harmonious. The most the (unspecified) "political establishment" can ever manage is "a relatively high degree of compromise, a relative absence of agony". It is suggested by the author in settling his terms of reference that a period of consensus might best be defined as one where there is agreement, at least on what to reject. He also uses and likes the word "nightmare" because of its ready use by politicians and others on account of its ambiguity.
The author takes us back to several past eras (1939-45; 1968-85; and 2008-22) when the ruling consensus broke down, and the future then filled with ominous possibilities – until, finally, a new settlement was achieved. How did the Great Depression's spectres of fascism, mass unemployment force and bombing politicians to think the unthinkable, and pave the way to post-war Britain? How was Mrs Thatcher's road to victory made possible by a decade of nightmares: of hyperinflation, military coups and communist dictatorship? And, he asks, why since the Great Financial Crash in 2008, have new political threats and divisions forced us to change course once again?
The sensible and concluding point from this interesting review of a variety of political and economic nightmares is that in each is discussed the fact that the new consensus was arrived at through a series of jarring changes, but these were not as extreme as the problems may have implied when first requiring executive attention. The author argues that the death of consensus was not the death of democracy but rather democracy was doing its job: he may be right now, although in the long run, he may not be. The sustained narrative in the meantime provides an interesting and discursive view of the continuity of national economic problems that all governments have to confront.
Phil Tinline, The Death of Consensus: 100 Years of British Political Nightmares (2022)