Readers find Boris Johnson 'guilty' over partygate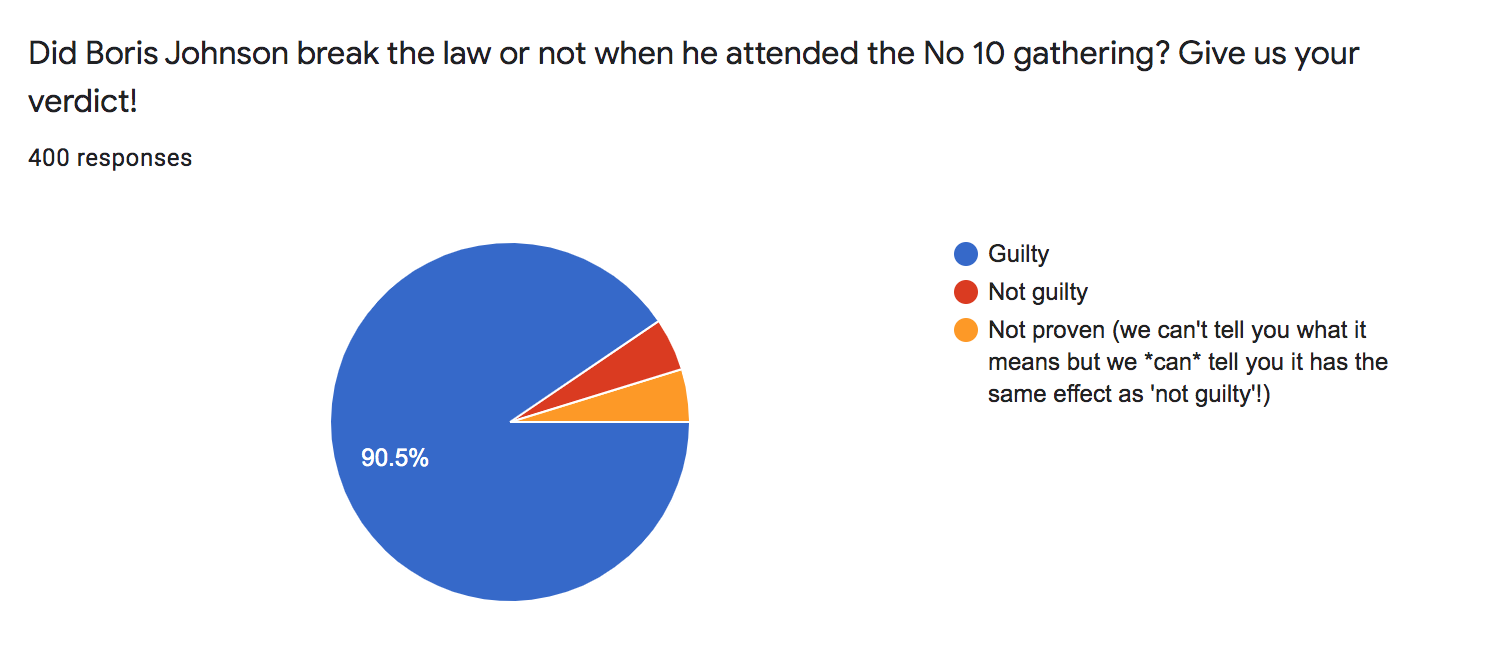 Yesterday SLN asked readers for their verdict on 'partygate', the controversy prompted by Prime Minister Boris Johnson's attendance at a gathering of staff in May 2020, the nature of which is disputed.
The vast majority of the 400 respondents, 90.5 per cent, thought Mr Johnson was guilty of breaking the rules. The 'not guilty' and 'not proven' verdicts each garnered 19 votes each, which is fitting given that they are functionally identical.
While the response to our lighthearted poll was a resounding 'guilty', the sentiment was serious and, though it is unlikely Boris Johnson will be held legally culpable over the affair, he is clearly morally culpable in the eyes of the nation.
One reader said: "That Johnson even tries to defend his action is proof, if proof was needed, that at No 10 integrity, honour and respect are concepts foreign to the Prime Minister and each and every one of his unprincipled Cabinet lackeys. Disgusting."
Another said: "The point of the regulations was not to allow hair splitting to rule the day – it was to prevent the spread of Covid-19 in what was its first incarnation. That is why the regulations were drafted as they were and people were fined or occasionally arrested for doing what occurred in the garden of No 10 in a park or even their own garden."
One reader wrote that Mr Johnson's "technical defence made matters worse and demonstrated his complete lack of remorse".
But some respondents came to his defence.
"Although, as the PM admitted, the whole thing was badly handled and the wording of the invitation was very insensitive, I think his defence that it was a work gathering is hard to challenge. It was perfectly legal for people to leave their homes and meet others if the nature of their work could not be done from home – though of course rules on social distancing in the workplace still needed to be followed."
Another stated: "I imagine that for many Downing Street staff the nature of their work will have required regular meetings and interaction with others that (at least on some days) necessitated them being on site. So if they were already on site for work purposes were they breaching the law by going into the garden for a break or more informal meetings with colleagues? Whilst the precise purpose of the gathering is unclear, it was clearly sensible and in line with government guidance to take their breaks outside or to hold meetings outside, and the invitation reminded them to maintain social distancing."
One comment that proves grade inflation is alive and well read: "Bit strange that a survey from the Scottish Legal News has to have the comment about not proven when it's read by lawyers who know what it means. I am waiting for the findings of the report before deciding on guilty or not. So currently with no hard evidence therefore not proven!"
Let us hope 'not proven' does not feature in their criminal law exam.
Other comments about Mr Johnson included: "[I] have rarely seen such a blatant abuse of power by a public servant"; "resign at once, do not pass go to collect peerage" and "he should be ashamed".
An irritated reader took issue with the fact there was no poll on the activity of Nicola Sturgeon and said that the "bias towards the Scottish government and its agenda is ever more apparent in SLN (and the Scottish media more generally) and I would greatly appreciate (as I'm sure other [sic] would) if SLN would stick to reporting on core matters relating to the legal profession in Scotland, or criticise/demonise the failings of our devolved administration in the same fashion."
We are not sure the Scottish government would agree. Earlier this week we described its consultation on regulation as 'inept'; we are waiting for a consultation on the division of the Lord Advocate's constitutionally embarrassing role which we do not expect to be forthcoming and we have repeatedly drawn attention to governmental contempt for the defence profession – among much else. Nor are we sure why the bad behaviour of one actor necessitates scrutiny of a different one instead.
Finally, readers may be interested in Benjamin Bestgen's article on corruption.