Police Scotland's Sir Iain Livingstone to retire this year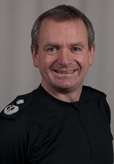 Sir Iain Livingstone is to step down as chief constable of Police Scotland in the summer.
He took the role on in 2018 and has been a serving officer since 1992. Sir Iain is responsible for 23,000 officers and staff in what is the second largest police force in the UK.
He said: "By my last day in service I will have been a police officer for 31 years and had the privilege of serving as chief constable for nearly six of those years.
"Police Scotland is an organisation with shared values and high levels of operational competence. The service improvements achieved in our ten years are unprecedented across the United Kingdom public sector, delivering effective policing for the public.
"We now have a full leadership team with the experience and capability to continue the progress made and can take confidence from the exceptional role Police Scotland played through Covid, COP26 and the events following the death of Her Majesty Queen Elizabeth.
"The police officers and police staff of Police Scotland are outstanding. Leading them as chief constable to serve the people of Scotland has been the honour of my working life."
Scottish Liberal Democrat justice spokesperson Liam McArthur MSP said: "Sir Iain Livingstone deserves thanks for his service and dedication to leading Scotland's police service. He was always approachable and I wish him well for the future.
"The rate at which chief constables and police authority bosses have come and gone over the past decade points to much deeper issues.
"Problems are hardwired into the structures of Scottish policing as a result of the SNP's botched centralisation. Ministerial distraction has added to their burden.
"The police are picking up the pieces of the mental health crisis because NHS services are overwhelmed. We need to recruit a legion of specialist mental health staff to work alongside the police to get people the expert help they need, enabling officers to focus on fighting crime instead of being social workers of last resort.
"It is time to inject accountability and localism back into policing, transform mental health services, and scrap plans that would repeat the mistakes of centralisation in social care."