Now you see him, now you don't – sheriff's speaker profile removed after SLN enquiry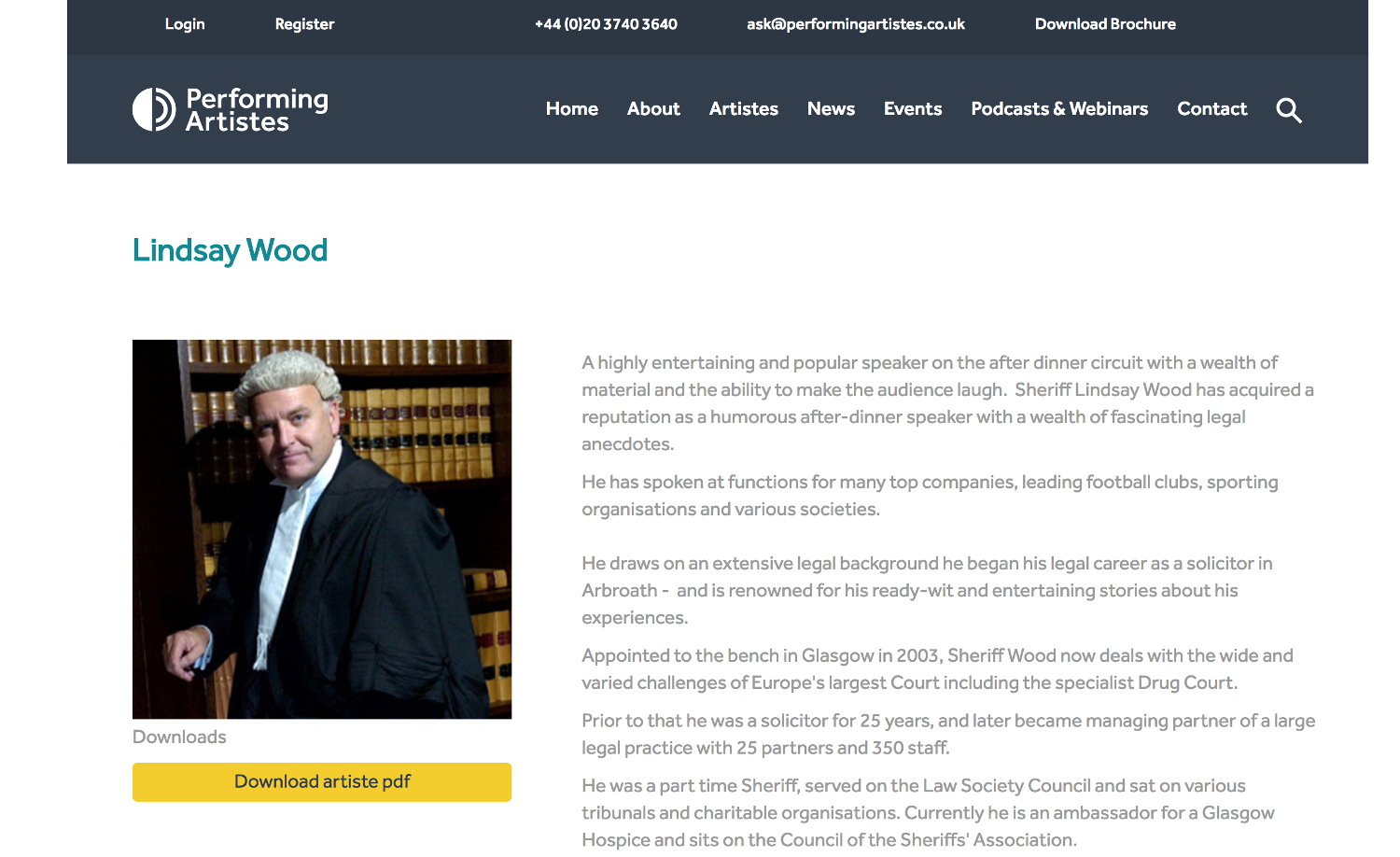 A speaker's profile of one of Scotland's best-known sheriffs that included a photograph of him dressed in wig and robes was removed from an after-dinner speakers' website hours after Scottish Legal News raised the matter with the Judicial Office for Scotland.
Performing Artistes is one of Britain's leading agencies supplying "speakers, hosts and presenters for a whole range of activities, including stand-alone virtual events".
Among those listed on its website are performers Kevin Bridges, John Bishop, Rory Bremner, Clive Anderson, Jack Dee, Steve Coogan, Stephen Fry and, until Tuesday, a bewigged and robed Sheriff Lindsay Wood.
In its deleted profile for Sheriff Wood, Performing Artistes stated: "A highly entertaining and popular speaker on the after-dinner circuit with a wealth of material and the ability to make the audience laugh. Sheriff Lindsay Wood has acquired a reputation as a humorous after-dinner speaker with a wealth of fascinating legal anecdotes."
It adds: "He draws on an extensive legal background he began his legal career as a solicitor in Arbroath - and is renowned for his ready-wit and entertaining stories about his experiences."
It concludes: "His style makes him a popular choice as an after-dinner speaker at most types of events including corporate functions and sporting, charity, and professional dinners."
Sheriff Wood has spoken at numerous dinners across Scotland and is a sought-after speaker for his witty observations.
Performing Artistes' use of a photograph of Sheriff Wood in his court garb, however, has concerned some lawyers.
A Judicial Office for Scotland spokesperson said: "The Lord President expects the judiciary to have regard to the Statement of Principles of Judicial Ethics. Each situation must be considered on its particular circumstances."
They further explained: "The image of the sheriff referenced has now been removed and an apology sent from the website director as it was posted without permission. That sheriff provides after dinner talks for sporting fundraisers and charity events where there is either no payment or payment provided to charity as a donation."
Scottish Legal News is pleased to have been able to draw the matter to Sheriff Wood's attention.