Northern Ireland: High Court 'minded to quash' search warrants against journalists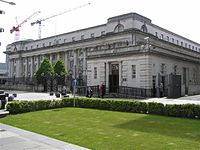 Northern Ireland's Lord Chief Justice, Sir Declan Morgan, indicated yesterday that he is "minded to quash" the search warrants linked to the raids on the homes and office of two Northern Ireland journalists.
Journalists Trevor Birney and Barry McCaffrey brought judicial review proceedings to the High Court in Belfast earlier this week in connection with raids after the release of their documentary, No Stone Unturned.
The pair were also arrested and questioned by police in August 2018. They have not been charged and remain on bail until September 2019.
The two journalists are being supported by the National Union of Journalists (NUJ) and human rights group Amnesty International.
Their legal team is made up of solicitors John Finucane and Niall Murphy and barristers Gavin Millar QC, Barry MacDonald SC, Steven Toal and Peter Girvan.
The case will move on to a remedy hearing today.
Michelle Stanistreet, NUJ general secretary, said: "Three High Court judges have vindicated the stance taken by Trevor, Barry and the NUJ. We have said all along that there was no legal basis for the searches and the intrusion into the family life of our members. Their legal teams deserve great credit and we acknowledge the support of allies and friends who rallied behind two brave, independent and committed journalists."
Seamus Dooley, NUJ assistant general secretary, added: "The Chief Justice places a strong emphasis on the right of working journalists to protect their confidential sources. He drew heavily on the NUJ ethics code in questioning counsel for the police services and his written judgement will be of tremendous significance."
However, he added: "The judicial review was a challenge to the search warrants and the seizure of journalistic material. Barry McCaffrey and Trevor Birney are on bail and subject to severe restrictions on their ability to work.
"The chief constable should now lift the threat of criminal prosecution and bring an end to this disgraceful episode."