Northern Ireland: High Court begins hearing Bloody Sunday test cases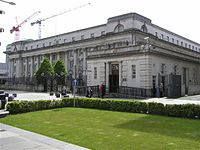 The High Court in Belfast has begun hearing three test cases for damages brought on behalf of people who were shot or wounded on Bloody Sunday.
Three of 21 civil actions brought by Madden & Finucane Solicitors against the Ministry of Defence were selected as test writs and are being heard now.
The MoD has already accepted liability, and therefore the test cases have been selected for arguments on the level of damages.
The cases are those of Michael Quinn, who was shot in the face as a 17-year-old schoolboy and survived; Gerard McKinney, shot dead at 35; and Michael McDaid, shot dead at 20.
Peter Madden, managing partner at Madden & Finucane, said: "In January 2011, I wrote to the then Prime Minister David Cameron asking for his proposals on how to properly compensate the families and wounded and reminded him that he had told the world's media that the events of Bloody Sunday were both unjustified and unjustifiable.
"A reply was received some weeks later from an official within the MoD stating that they would like to resolve this issue as 'quickly and efficiently' as possible.
"The families are disappointed that the MoD have not fulfilled that commitment and that they have to go to court and relive the events of the day."