Miners sacked and prosecuted during strike should be compensated, ministers told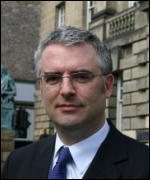 Miners wrongly sacked and convicted in the 1980s because of "trumped up" police charges should be compensated, Scottish ministers have been told.
An inquiry led by John Scott QC has submitted its recommendations to the Scottish government, The Times reports.
Justice Secretary Humza Yousaf is considering the report and will update Holyrood next month.
The review found that it was unlikely most of the miners' actions would have resulted in prosecution today and said that those affected thought they were punished in a "grossly excessive manner".
It is believed that some 1,400 miners were arrested and more than 500 convicted.
Between March 1984 and March 1985 miners across the UK went on strike in an attempt to prevent the closure of pits by the Thatcher government.
Solicitor advocate Bruce Shields, who represented the National Union of Mineworkers (NUM) in Scotland and works for Thompsons Solicitors, welcomed the news.
He added: "Another objective we have always sought to achieve and that was included in our submission to the inquiry was that over 200 to 250 miners in Scotland lost their jobs and were sacked by the Coal Board because of their activities and arrests on the picket line.
"I know of men who were sacked because they were active NUM officials, and men who took claims to the employment tribunal, and tribunals ordered reinstatement and the Coal Board refused to do so. Those men lost years of income, pension contributions, loss of pension benefit value, and those men lost their entitlement to redundancy which they would have received had they not been sacked.
"Thompsons want to see those men who were convicted and sacked by the Coal Board fully compensated."