Macdonald Henderson announces new appointments and promotions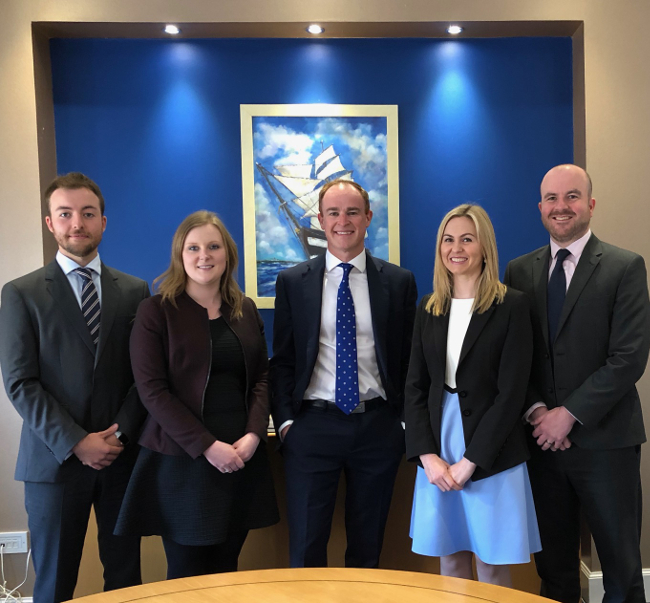 Macdonald Henderson has announced the following two appointments and two promotions to its corporate team: Fraser Morrison has been appointed as a director; Laura Forrest has been appointed as an associate director ; Michelle Rae has been appointed as a solicitor, joining the firm from MacRoberts; and Calum Thornton has been appointed as a legal analyst with a view to becoming a trainee solicitor.
Mr Morrison joined Macdonald Henderson in 2015, and is a highly experienced corporate and commercial solicitor with particular expertise in mergers & acquisitions, corporate governance matters and private equity investments.
Ms Forrest is a key member of the Macdonald Henderson corporate team. She has experience in advising clients from small owner managed businesses to larger companies on a wide range of corporate matters.
Ms Rae joins the firm from MacRoberts where she completed her legal traineeship. An important addition to the corporate team, she has gained experience across various areas of law during this time, including corporate, banking, commercial property and private client.
Mr Thornton has been appointed as has been appointed as a legal analyst with a view to becoming a trainee solicitor in the corporate team. He graduated from the University of Dundee in 2017 with honours in the dual qualifying degree in Scots and English Law and has just completed his Diploma in Legal Practice at Glasgow.
Managing director David Beveridge said: "We are proud to welcome Michelle and Calum to the firm, as well as recognise the excellence of our existing team in the promotions of Fraser and Laura. We continue to observe opportunities for growth in our key practice areas as well as a continued positive sentiment towards investment and growth within our client base and the wider advisory community".