Lord Turnbull to stand aside from criminal hearings upon appointment of Lord Advocate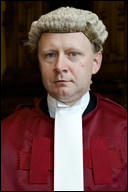 Lord Turnbull, husband of Dorothy Bain QC, will stand aside from criminal hearings upon her appointment as Lord Advocate.
Russell Findlay, the Scottish Conservative community safety spokesman, had questioned whether it would be appropriate for Lord Turnbull to sit as a criminal judge when his wife becomes head of the prosecution service.
"The SNP government, Crown and judiciary may cite the 'judicial oath' as a safeguard against dinner table chat from influencing cases which can greatly impact on people's lives," he said. "But even a perception of conflict risks undermining public confidence in the judiciary and Crown."
In response, the SNP's Rona Mackay told Mr Findlay and "his band of Tory conspiracy theorists" that "Dorothy Bain QC has an exemplary legal reputation. I have all faith she will be an exemplary lord advocate who will execute the role without fear or favour — just like her male predecessor, James Wolffe".
Lady Wolffe, the wife of James Wolffe QC, similarly stepped aside from criminal cases and those connected with the Scottish government upon his appointment as Lord Advocate.