Lord Advocate reflects on family's past in Nazi Germany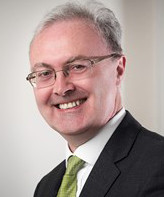 The Lord Advocate, James Wolffe QC, has spoken to The Herald about his family's past in Nazi Germany.
On a visit to the Garnethill Synagogue in Glasgow, Mr Wolffe reflected on the lives of his father and grandparents.
While he does not identify as Jewish and nor did his father, the architect Antony Curtis Wolffe, his grandmother, Hildegarde, was from a prominent Jewish family in Berlin.
Of his father, who was born in 1920, the Lord Advocate said: "He talked about how his mother used to comb his hair, which was dark and wavy, in order to make him look less Jewish.
"In the early 30s, he was also beaten up in the street by the Hitler Youth. As he told it, his father went round and told the leader of the Hitler Youth to lay off, which was rather brave in the circumstances.
"I'm assuming they had identified him as Jewish. There also came a point where he wasn't allowed to play sports at school because he was identified as being half-Jewish and I think that that, for him, was most significant."
His father also had memories of relatives murdered by the Nazis, including his mother's cousin, who was shot dead at his front door in Berlin and his grandmother's cousins, who died in the concentration camps.
In order to leave Germany, Mr Wolffe's grandfather, Walter, had to come up with a plan to circumvent the race laws introduced in 1935 that endangered his wife.
He told the authorities that his wife's mother had had an affair and that her real father was actually an Aryan, a man called Wilhelm Lucas von Cranach – a fabrication.
A Nazi doctor fell for the ruse, favourably comparing Hildegarde's facial features to those of her supposed father.
Reflecting on his background in the context of his professional life, the Lord Advocate said: "In terms of my own professional situation, I suppose I look at that history and what it tells us is the importance of the protection of fundamental rights and of the need to be very clear and firm about the importance of those values.
"Germany was a country where the Jewish community was assimilated. My own grandmother's family were prosperous, they had prospered in Germany, they were part of the professional elite in Berlin – it was not a country where one would expect what happened next to happen. And yet it did.
"While I'm not a fan of drawing parallels to where we are now – it's important not to draw false analogies – nevertheless the lesson that one takes from that, for me, is the importance of the rule of law as the foundation of any just and successful society and the protection of fundamental rights and, I suppose, also the respect for tolerance."