Lord Advocate apologises for Crown Office treatment of man's death 25 years ago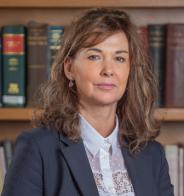 Lord Advocate Dorothy Bain KC has apologised for how the Crown Office handled a man's death 25 years ago.
Kevin Macleod's body was found in Wick harbour on February 9, 1997. His family had called for his death to be investigated as a homicide due to the injuries on his body.
A review found that it was not suspicious but Ms Bain said the family was let down during early investigations.
And while it could not be ruled out that he may have been pushed, there was nothing to indicate that this happened or that he had enemies.
Mr Macleod's family met with Ms Bain on Wednesday.
His uncle, Allan Macleod, said: "We informed those at the meeting of how the family had served a 25-year life sentence due to the catalogue of failures, mistakes, abdications of responsibility and miscommunications by both the police and the crown throughout the majority of those years.
"We brought several ongoing concerns to the Lord Advocate's attention, which she assured us will be robustly investigated and that a further meeting will be arranged for later this year."
Ms Bain said: "They suffered a devastating loss and then were let down during the early investigations into Kevin's death. The communication they had with the Crown Office and Procurator Fiscal Service afterwards also fell below the standard they were entitled to expect."