Lisa Gregory: A confession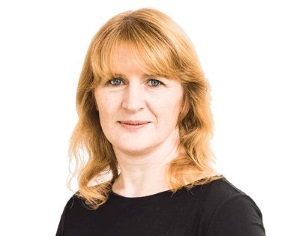 For over 25 years, I have enjoyed building a specialism in personal injury law. I have dealt with hundreds of accident claims. Road traffic accidents on urban roads, motorways and rural roads. Workplace accidents in factories, construction sites, shipyards, offshore installations. Accidents at sea on drill-ships, fishing vessels and merchant vessels. Accidents in the air on fixed wing aircraft and helicopters. Accidents on trains. Accidents overseas. It has made me neurotically risk averse. I see hidden hazards in the most innocuous situations, but I hope that I have helped a lot of people get the financial compensation they deserve to help them rebuild their lives post injury.
I fully admit to having a limited repertoire. A couple of house purchases and a brief dalliance into commercial property convinced me that I was more at home in litigation and I have always happily embraced the mantra – Don't Dabble. It has rolled off the tongue at every conference I have attended, heralding the dangers of straying into unknown territory.
Now picture the scene. We're in the grip of Covid 19 and in full lockdown. Most of the office is on furlough, then a colleague is taken ill. He is dealing with a contentious executry. I'm asked if I could "just help out". Do I politely, but firmly, decline? Of course, I don't. A colleague is in need, after all… and it did sound like an interesting case.
I confess. I dabbled.
I wasn't totally reckless. I had the comfort blanket of experienced colleagues on hand to make sure there were no shockwaves to the firm's indemnity policy.
Once I had reviewed the file, I realised that perhaps interesting was the wrong word. There were proceedings to remove the executor from office. (I established pretty quickly that their interest was definitely incompatible with their duties as executor). There were multiple properties in the estate, disputed titles, sitting tenants, civil litigation, criminal proceedings, disputes with the bank, arrestments on the dependence. The list goes on, and all set against what was, understandably, a very fraught and deeply sensitive family dynamic.
I found myself searching for unfamiliar authorities, legislation and texts. This work might be bread and butter to our private client colleagues but I was having flashbacks to university seminars and exam papers laden with obscure points of law and trip hazards lurking on every turn of the page. I had blurred memories of my succession and trusts professor talking about minutes of declinature. I was on Westlaw reading up 1910 Session Cases. I was using language I'd forgotten – behoof, jus relicti, an eik.
I reminded myself that what I needed, as always, was a road map. Identify and untangle the issues in dispute, pull in the appropriate resources, set clear outcomes and understand and manage clients' expectations. What they needed, as always, was excellent client service and client care.
With a clear head, the whole process became enjoyable, refreshing and rewarding. Negotiating around all the obstacles, focusing and resolving the issues and delivering pragmatic solutions.
Just when I thought the finishing line was in sight, I stumbled into the whole new world of executry accounts. Who knew there are such strict rules as to what is properly or not properly chargeable to an estate, or the requirement for the certificate of assessment? Transactions were settling. I needed the account fast. A call to my trusty law accountants, Alex Quinn and Partners, established that they have a dedicated executries team. The files were duly dispatched. I had a call from Paul in the executries team to clarify a couple of details and to advise how best to ensure that the accounting was complete, accurate and transparent and the account was back with me. The turn-around time was impressive: 7-10 days is the norm. On this occasion, 24 hours.
Mission accomplished. Happy clients.
So what does this story offer? What did I learn from my foray into private client?
I learned that maybe we all need a reminder sometimes of what it's like to work in an area where we've not seen it all before. To do the reading, to grasp the subtleties, to learn some law.
And maybe that will remind us why we became lawyers in the first place, before it all got lost in process, data analysis, conversion values and targets and the legal bit is reduced to a few clicks of the mouse then leave the rest to the case management system.
Of course, the world has changed and the profession must adapt to survive. Tales of morning prayers and a glass of sherry at closing dates swirl in the mists of time. We have to be commercial. We have to be competitive. We have to embrace tech and innovation and let go of our biases and pre-conceptions. But surely there is still room to love the law and love the qualities that first made us proud to be Scottish solicitors.
So, controversially, my advice is dabble sometimes but dabble smart, and be sure to have the right support network around you.
Now back to PI.
Lisa Gregory is a solicitor with Grant Smith Law Practice and an accredited specialist in personal injury law.