Law Society recognises in-house rising star John Frame and honours late Martyn Ross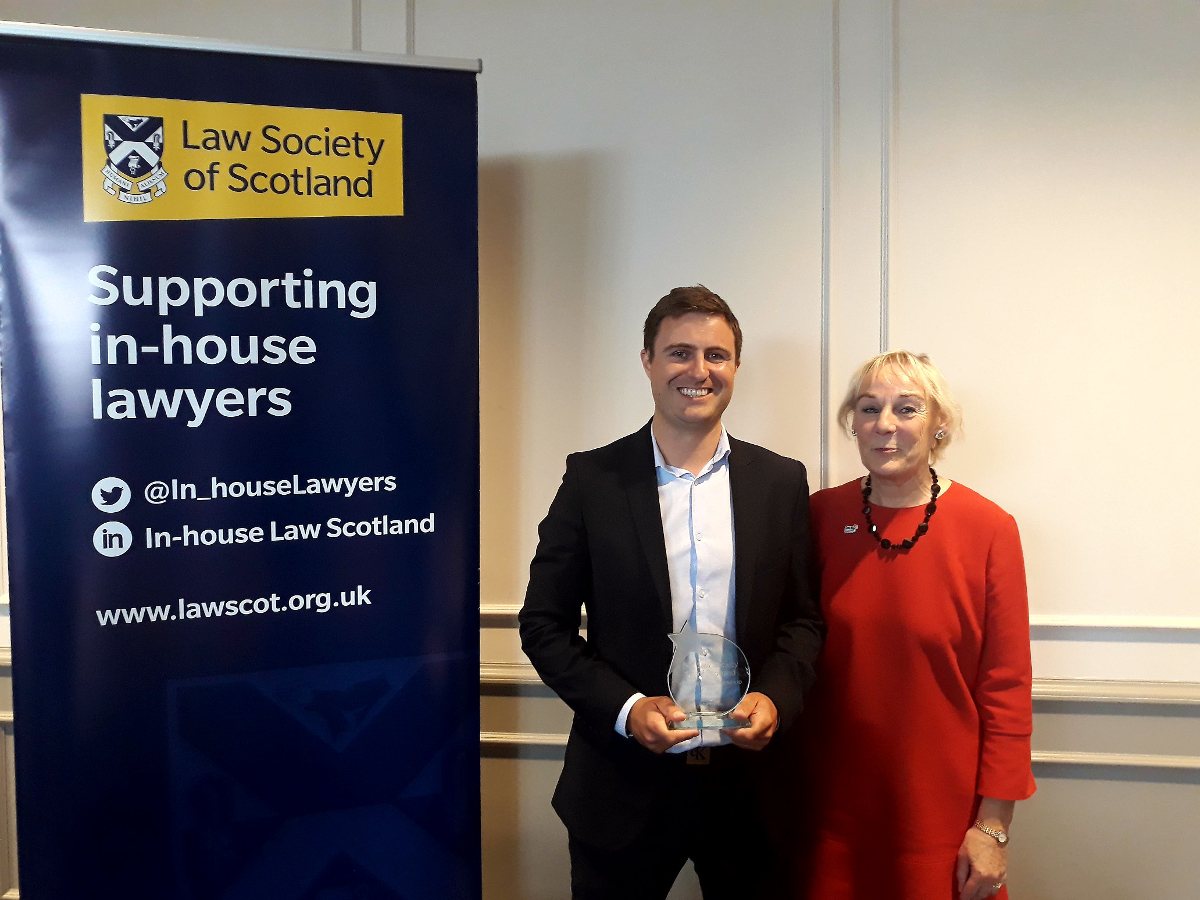 Glasgow-based solicitor John Frame has won the Law Society of Scotland's In-house Rising Star Award for 2019.
Mr Frame, legal director for transport in UK & Europe at Serco, has played a major role in the business, quickly becoming a trusted and valued colleague. He was appointed to the role of legal director just months after joining the organisation. His legal knowledge and skills, alongside his ability to communicate in a clear, digestible way, enabled him to provide necessary insights into stakeholder policy decision-making processes and to inform strategy.
Caroline Douglas from Lloyds Banking Group is this year's runner up. She was praised for her hard work, commitment and an impressive business understanding at an early stage in her career alongside her energy and eagerness to learn and develop. She very ably took on an executive support role normally filled by a more experienced and senior colleague.
A posthumous Special Recognition award was also made to Martyn Ross, a trainee with Marathon Oil, who passed away in November 2018. His award was collected by his colleagues Jessel Gair and Kristian Rose.
Alison Atack, past president of the Law Society of Scotland, said: "I'm delighted to congratulate John as our In-house Rising Star for 2019 and our runner up, Caroline. They are both great assets to their organisations
"The In-house Rising Star Award is a wonderful opportunity for us to showcase the up-and-coming talent within the in-house legal sector and, importantly, is a chance for employers to acknowledge the incredible individuals in their teams.
"It is always tremendously difficult to choose a winner, and I'm sure it has been particularly challenging for the judges given this year's group of exceptional candidates. All five of our finalists have excelled within their organisations.
"I was also very moved to present an award to Martyn's colleagues in recognition of the enormous contribution he made while a trainee at Marathon Oil.
"John is a very worthy winner. He has demonstrated exceptional skills and earned colleagues' admiration for his achievements within a very short period and is truly a rising star within the profession. I am sure that his career will go from strength to strength and I wish him every success for the future."
Mr Frame said: "I was absolutely delighted to have been shortlisted and am over the moon now. I've been very lucky to work with lots of amazing people and great mentors in my career so far. It was great to meet everyone at the conference and congratulations again to all those nominated. We already have plans to stay in touch and share our in-house experiences and challenges!"