Lady Rae in running to become Glasgow University's next rector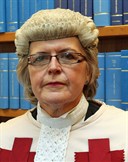 Senator of the College of Justice Lady Rae is in the running to become the next rector of Glasgow University.
Lady Rae, who features in the university's 100 Voices for 100 Years project, was last year awarded an honorary degree by the university in recognition of her contribution to Scots law.
The other candidates in the running are: Junaid Ashraf, Graham Campbell, Elaine Gallagher and John Nicolson.
Voting opens on 23 March.