Lady Hale to deliver lecture on 'communication and transparency' in UK Supreme Court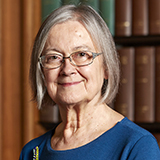 Baroness Hale of Richmond, the former president of the UK Supreme Court, will deliver a lecture next week on communication and transparency in the UK's top court.
Lady Hale, who retired in January, will give the English-Speaking Union's Evelyn Wrench Lecture 2020 via Zoom on Tuesday 10 November, 7.30 pm.
Professor James Raven, chair of the English-Speaking Union, said: "We live in a more and more polarised society in which public and social media debate is increasingly crude and offers a harmful example to young people.
"The ESU leads in showing how we can best agree to disagree and how to communicate with effectiveness and grace.
"Court proceedings are, or should be, the paradigm of settling arguments in a civil manner and the Supreme Court hears cases of the greatest public and constitutional importance affecting the whole population, so we are honoured to have Lady Hale as our guest."
The lecture will be hosted on Zoom, and there will be time for questions afterwards. More information is available via Eventbrite.