Lady Hale lists her Desert Island Judgments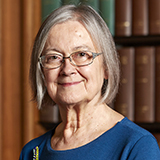 Lady Hale has listed her 'Desert Island Judgments' in an interview with The Guardian.
The former Supreme Court President, who has been succeeded by Lord Reed, cited the prorogation case as her top one.
"Number one would probably be the prorogation case, where we said it was not within the power of the prime minister to suspend parliament for such a long time at such a critical moment. That's quite a source of, not pride, but satisfaction."
The second of her three favourite judgments involved a mother due to be deported to Tanzania.
"The government conceded that it would be a disproportionate interference with their rights to deport the mother. So that established taking account of the interests of children who were affected by all sorts of governmental decisions."
Her final choice was another 2011 judgment which found that domestic violence does not have to be physical.
"We said, no, it involves all kinds of domination and abuse. Psychological domination – what we now call coercive control. We didn't have that phrase then."