Lady Hale calls for new judicial retirement age of 74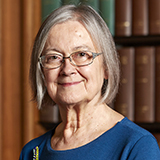 The judicial retirement age should be raised to 74, the President of the Supreme Court has said.
Lady Hale, 74, told peers that the judiciary should seek applicants for the High Court bench from lawyers in their 60s, who will no longer be concerned about reaching their maximum earning power.
The most recent recruitment round for the High Court saw 10 of 25 posts filled.
Lady Hale told the Lords Constitution Committee that the poor recruitment rate "suggests that the problem is that there are not enough judges and that would be helped if people could stay longer".
The mandatory retirement age was reduced from 75 to 70 in 1995. Lady Hale will retire from the bench in January as she was appointed before the change.
"If you had it just at the top, that really would be bed-blocking," she said, adding: "While we do not want the bench to be all old, it is not a bad idea if people who have possibly got past their major financial responsibilities in life might be tempted to come on to the bench."
There has been growing concern in recent years over the lack of applicants to the bench.
In 2017, Lord Neuberger expressed concern about the increase in "refuseniks" — advocates who are refusing to move to the bench because of misgivings about pay and the treatment of judges.
He said that "it could become a real problem if it continues", adding: "The concern is not only that it will undermine one of the two fundamental pillars of our society, the rule of law, if we do not have a first class judiciary. It is also because a first class judiciary underpins the whole financial and professional services industries which are so vital to the fortunes of this country, perhaps particularly in the post-Brexit world."