Key dates calendar wins Law Society's 2022 Innovation Cup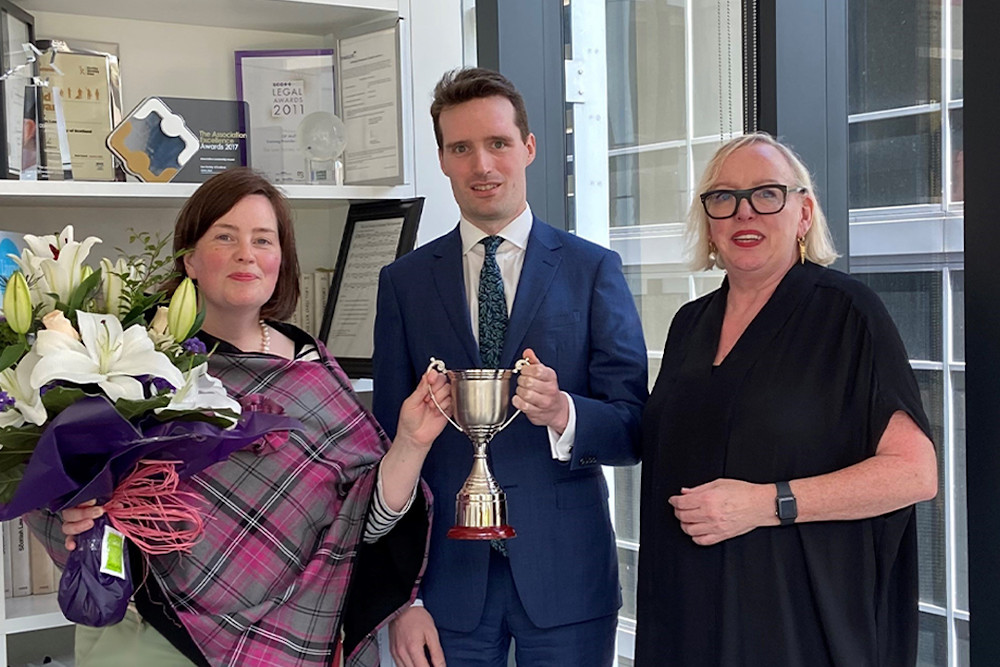 A tool designed to mitigate risks for solicitors has won the Law Society of Scotland's 2022 Innovation Cup.
Mary-Jay Morton, a senior associate solicitor at Laurie & Company in Ballater, Aberdeenshire, has won with an easy-to-use key dates calendar. It is designed to save time, stress, and worry within a busy legal environment and most importantly, it reduces risk to the client and the firm.
Now in its fifth year, the Innovation Cup, run by the Law Society in partnership with Master Policy Insurers RSA and brokers Lockton, invites legal professionals and law students to share their bright ideas for risk management products, tools, or strategies.
There were 11 entries for the 2022 Innovation Cup competition, with three ideas shortlisted. Alongside Ms Morton's winning entry, the shortlisted ideas related to residential conveyancing from Paul Brown at W&JS Gordon, and to cryptocurrency and blockchain technology risk management from Stuart McDonald at Wright, Johnston & Mackenzie.
The winning key dates calendar is a simple memory aid for transactions to mitigate risk and ensure that key dates are not overlooked by providing a checklist which is useful for both the individual completing the transaction and anyone who takes up the work in their absence.
Designed for residential conveyancing, it can also be adapted for other areas of law and would be useful for litigation, matrimonial, personal injury, and debt recovery, where key dates can have major consequences for the client and firm if overlooked. The calendar will now be developed by Lockton's risk management team for distribution to the profession.
The judging panel were impressed by the simplicity of the key dates calendar and agreed that it will focus practitioners' attention on risks while offering an easy-to use system to avoid errors.
John Mulholland, convener of the Law Society Insurance Committee, said: "Congratulations to Mary-Jay for her fantastic key dates calendar. It is a great idea which can be put into practice very quickly and simply and will have wide appeal across the profession.
"The Insurance Committee is dedicated to providing a strong risk management programme for the profession. As one of this year's competition judges it has been a real pleasure to see so many impressive new ideas which promote risk management. Creative thinking which helps us to share best practice and continues to raise our professional standards is always welcome.
"Well done to everyone involved, I look forward to seeing the ideas being put into practice."
Law Society chief executive Diane McGiffen presented the prize to Ms Morton on Friday 19 August alongside Kenneth Law, risk management solicitor at Lockton, and Paul Mosson, executive director of member services and engagement and secretary to the Insurance Committee.
Ms McGiffen said: "The Innovation Cup celebrates innovation across the legal profession – innovation of which the profession can be proud, and which is needed more than ever as we work to recover from the past few years.
"Mary-Jay has come up with a great idea that can benefit many in the profession. The Law Society thanks our sponsors and our innovators and is proud to be involved in showcasing these great ideas."
Ms Morton, who has always worked in rural legal practices, carries out a variety of legal work including residential sales, purchases and commercial leases whilst also carrying out private client work.
She said: "I am thrilled that my entry for this year's innovation cup has been selected as the winner. It was wonderful to be able to attend in person for the presentation of the cup at the Law Society's offices.
"The key dates calendar is a simple and effective way to keep track of key dates throughout the course of a transaction especially in a busy legal environment. It can be adapted for any area of law and can be easily integrated into any existing case management system. I am looking forward to developing the calendar with Lockton and RSA."
The key dates calendar will now be developed by Lockton and RSA into a practical application. Ms Morton received a £1,500 cash prize provided by RSA and the Innovation Cup trophy.