Journal editor receives Lifetime Achievement Award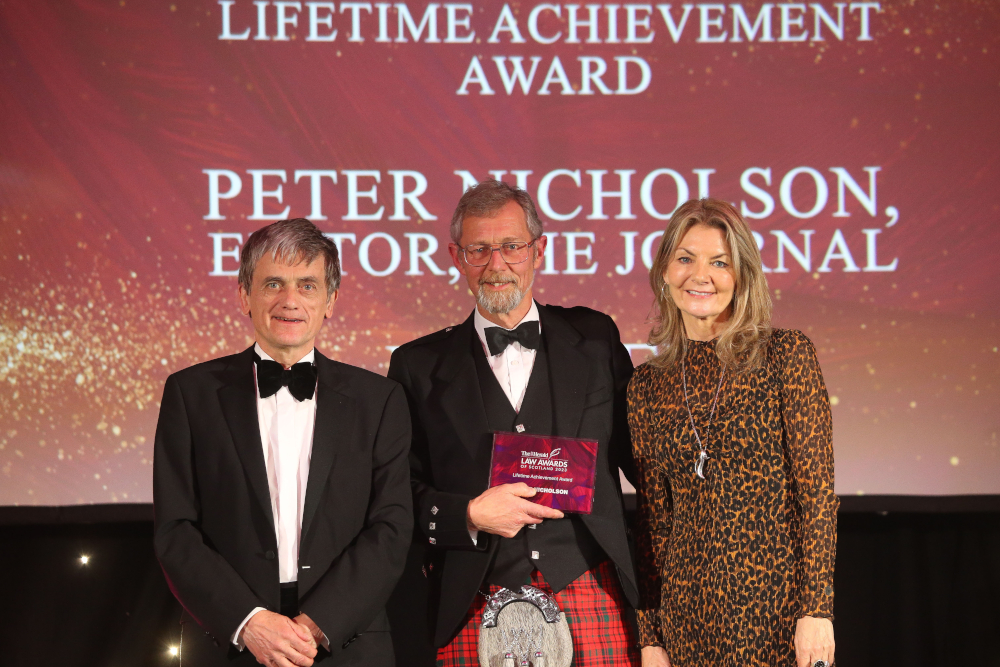 Peter Nicholson, editor of the Law Society of Scotland's Journal magazine, has been honoured with a Lifetime Achievement Award at the 2023 Herald Law Awards.
The tribute comes just a matter of months after he was conferred honorary membership of the Law Society of Scotland.
Colin Anderson, director and company secretary at LEAD Scotland and chair of the judging panel, presented the award at a dinner and ceremony attended by 300 guests from across the legal sector.
Diane McGiffen, chief executive of the Law Society of Scotland said: "This award is a celebration of Peter's outstanding contribution to the Scottish legal profession. Peter has served the profession as editor of the Journal for the last 20 years curating insightful and compelling content with his unwavering professionalism, extensive knowledge and characteristic calm.
"He has seen the Journal through significant periods of change, evolving with the times to consistently meet our members' needs with the development of an online magazine, daily news updates and social media content. Under Peter's leadership, the Journal has been a reliably relevant news source to an ever changing and increasingly diverse profession.
"The fact that the Journal received a round of applause from the 300 guests at the ceremony is testament of the high regard in which the magazine is held and it was a privilege to see Peter accept this prestigious and well-deserved award ahead of his retirement later this year."
A University of Edinburgh Law School alumnus, Mr Nicholson qualified as a solicitor in 1981, before joining W Green & Son as a legal editor. He spent more than 20 years editing the Scots Law Times and was the founding editor of Greens Weekly Digest, which he oversaw for 16 years, alongside editing other reference sources including Parliament House Book and Scottish Current Law.
He became editor of the Journal, the society's monthly magazine, in 2003 and, for the past 20 years, he has led the profession's conversation, ensuring the Journal is a vital source of news and updates for the legal sector, and a forum for debate and discussion.
The distinguished panel judging the awards that included Frances McMenamin KC; Usman Tariq, advocate; Susan Murray, vice president of the Law Society of Scotland; Rebecca Samaras, senior lecturer at Dundee Law School; Murray McCall, managing partner, Anderson Strathern; Arlene McDaid, founder Legal Hackers Scotland; and Kenny Robertson, head of outsourcing, technology and IP legal team at the RBS/Natwest Group.