Joanna Boag-Thomson elected chair of Scottish Council for Development and Industry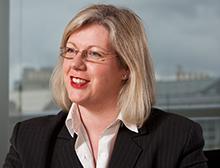 The Scottish Council for Development and Industry (SCDI) has elected Shepherd and Wedderburn partner Joanna Boag-Thomson as its chair.
Ms Boag-Thomson, a media and technology specialist, was first appointed to the SCDI Board in 2019 and was elected vice chair the following year. An acknowledged expert in intellectual property, her key areas of expertise are technology transfer, collaborations and brand exploitation. Joanna advises clients in a variety of sectors including food and drink, life sciences, clean-tech and the creative industries.
Founded in 1931 as the Scottish Development Council, the SCDI is a non-political, not-for-profit independent membership network representing a cross-section of the private, public and social economy sectors that seeks to engage Scotland and influence government and key stakeholders to ensure sustainable inclusive economic growth and flourishing communities.
Ms Boag-Thomson said: "I am very proud to be given this opportunity to contribute to the development of Scotland's economy and to work closely with the excellent team at SCDI to make a real difference."
Sara Thiam, SCDI's chief executive, said: "In taking on the chair of SCDI in our 90th year Joanna joins a long line of distinguished business leaders, who recognise that a prosperous economy that works for all requires the public, private and third sectors to unite behind a shared vision and goals for Scotland. She takes the helm at pivotal time for the Scottish economy, when difficult decisions need to be made about the country we want to be."