Jimmy Lai legal team led by Caoilfhionn Gallagher KC facing 'reprisals'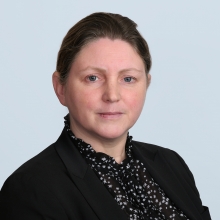 Chinese and Hong Kong government "reprisals" against the international legal team representing jailed publisher Jimmy Lai and his son, led by Caoilfhionn Gallagher KC, have been condemned by the UN Secretary-General and the US and UK governments.
Ms Gallagher, the accomplished Irish human rights lawyer practising with Doughty Street Chambers in London, leads the legal team defending Mr Lai, who has now spent over 1,000 days in prison in Hong Kong in connection with his role in anti-government protests and what his lawyers describe as a "spurious" fraud conviction.
Mr Lai is currently awaiting trial for sedition and charges under the controversial National Security Law (NSL) in relation to his pro-democracy campaigning and his work at tabloid Apple Daily, which was shut down by police in 2021. He faces a potential life sentence.
Ms Gallagher and others in the legal team – which includes Jonathan Price, Tatyana Eatwell, Jennifer Robinson and Clare Wisson – have raised concerns about Mr Lai's prosecution at the UN Human Rights Council, drawing condemnation from the Hong Kong government.
In public statements, the Hong Kong government has criticised the "so-called 'international legal team' for Mr Lai and his son Sebastien Lai" for seeking to have the UN "interfere" in judicial proceedings, and warned that doing so was "very likely to constitute the offence of criminal contempt of court or the offence of perverting the course of justice".
Meanwhile, members of the legal team have described receiving death and rape threats, including to their family members, as well as facing online surveillance and cyber-attacks. UN experts previously raised concerns with China that the lawyers have been subjected to "acts of intimidation and harassment, seemingly in response to its advocacy on behalf of Mr Lai".
A report highlighting the reprisals was produced by UN Secretary-General António Guterres and presented to the UN Human Rights Council this week, where it was welcomed by the US and UK delegations.
Speaking afterwards, Ms Gallagher: "China and [Hong Kong] authorities have long harassed our client, Jimmy Lai, for his work as a pro-democracy campaigner, writer and media owner. They tried to silence him. They failed.
"Now those same authorities are also attempting to harass Mr Lai's son, Sebastien, and us, the international lawyers. They are now trying to silence us. They will also fail.
"Reprisals like these are not just an attack on the legal profession and Mr Lai's right to vindicate his internationally protected rights through UN mechanisms. They are also an attack on the international human rights system.
"While directed at us, these threats may have a chilling effect, intimidating and threatening individuals and civil society organisations in Hong King and China from cooperating with the UN. These reprisals must be condemned in the strongest possible terms."
Baroness Helena Kennedy of the Shaws KC, director of the International Bar Association Human Rights Institute, added: "A fundamental element of the rule of law is that lawyers are independent. Just like judges.
"The lawyer must not be confused with the client. Their role in acting for a client should not be interpreted as the sharing of a world view. The lawyer is there to argue the client's case as the client would himself of herself if they were trained in the law. The lawyer is defending the right to a fair trial and due process. The ethical lawyer acts in all our interests by keeping the system of law fair for all.
"Governments that harass and intimidate lawyers do not adhere to the rule of law. China is failing to preserve these fundamental rights and their attacks on lawyers are a symptom of a system that is wholly unjust."