Immigration lawyers call for legal aid to be extended to London-only appeals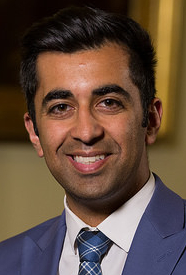 An immigration solicitor has called on the Justice Secretary to review rules preventing Scottish residents from receiving Scottish Legal Aid Board (SLAB) funding for Special Immigration Appeals Commission (SIAC) cases, The Herald reports.
Challenges to Home Office immigration decisions in Scotland are heard at the Immigration Tribunal in Glasgow while any involving a national security element are heard at the SIAC in London.
McGlashan Mackay partner Euan Mackay has written to Humza Yousaf, asking him to lift the legal aid restriction as SIAC is the only forum to hear national security cases.
"There's no legal aid available through the Scottish Legal Aid Board for anything going to the Special Immigration Appeals Commission, but the only way to challenge these decisions is to go to the SIAC," Mr Mackay said.
A SLAB spokesman said that "the UK government has provided that legal aid for SIAC is available through the English and Welsh legal aid system".
"That, like Scottish legal aid in the Scottish legal system, has no residence requirement, and is therefore available to people resident throughout the UK," he said.
Mr Mackay explained that as anyone living in the UK must appeal within 10 days of having their citizenship revoked or refused, Scottish solicitors refer their clients to English counterparts.
"We had a case a couple of years ago that we eventually had to refer to an English firm because we wouldn't have been able to agree the point about legal aid in order to comply with the timescales," he said.
"The Scottish Legal Aid Board at that time said there was legal aid available through the English system but that meant our client instructing English solicitors and travelling down to London.
"I have a client at the moment who waited six years for a decision on his citizenship and when it was refused they [the Home Office] said it would not be in the national interest to tell him the reasons.
"He can't apply for legal aid because the Scottish regulations don't allow it, so we'd have to just stop working for him and refer it to an English firm [if he wants to apply for legal aid].
"He doesn't know what's going on and we're trying to explain that he's not allowed to know the reason [why his application was refused] after waiting for six years then I'm saying I can't advise him."
A Scottish government spokesman indicated that it would not update its legal aid regulations to include SIAC cases.
"The Special Immigration Appeals Commission remains reserved, meaning that applicants from Scotland have to apply for legal aid via England and Wales.
"Any review of legislation would be for the UK government to consider."