Gillian Mawdsley: In memoriam Squadron Leader Patrick Gifford DFC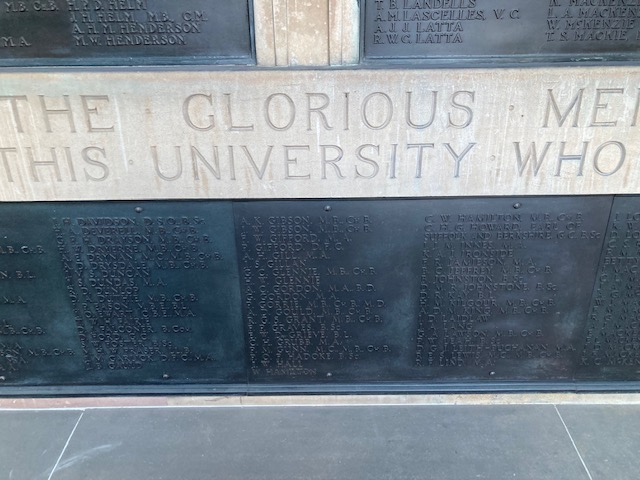 Gillian Mawdsley remembers Squadron Leader Patrick Gifford, whose death was the first recorded in the Scots Law Times during the Second World War.
As November falls again, we reach another Armistice Day on 11 November when we pause to remember those that fell in World War 1 and 2. With the digitalisation of the Scottish Law Times (SLT) case reports, we may now tend to forget that the News section of SLT recorded obituaries from those in the legal profession who died or had been killed.
In June 1940, Squadron Leader Patrick Gifford, aged 30, was "the first name to be recorded [in SLT] of a member of the legal profession killed on active service during the present war …[and that was of ]… this gallant airman." It recorded that his father had intended to assume him as a partner in the family firm in Castle Douglas at the termination of the war.
Squadron Leader Gifford should not just be remembered merely as a lawyer as he had been awarded the Distinguished Flying Cross, by that time, early in the Second World War., The DFC is a significant accolade, given "for an act or acts of valour, courage or devotion to duty performed while flying on active operations against the enemy". The obituary recognised that it was for "his daring exploits in the air against the enemy off our own coasts that his name has become familiar and for which he was awarded the DFC".
Squadron Leader Gifford was shot down by a German fighter plane and killed when his hurricane then crashed at Hamme-Mille, Belgium on 16th May 1940. He is commemorated on the Royal Air Force memorial situated at Runnymede, Surrey as he has at present no known grave. There is speculation that a Commonwealth War Grave in a cemetery at Heverlee, near Brussels, which is marked as "An airman of the 1939-1945 war. Royal Air Force May 16th, 1940", is actually that of Squadron Leader Gifford. Research has suggested when the plane crashed, a body was recovered. Due to the rapid advance of the Germans, the body was buried quickly with no insignia or identification with the body later being reinterred in 1954.
However, in common with many dead from both wars, his death falls to be commemorated on a number of memorials associated with his life. This includes memorials at school at Sedbergh, Edinburgh University where he studied law and on his family memorial at the Stell Cemetery in Dumfries and Galloway. On May 16th, 2010, 70 years after his death, a memorial was unveiled to him in the grounds of Castle Douglas Library. It recognised that he was the first pilot to successfully target an enemy bomber in British airspace in the Second World War.
As a qualified solicitor, he worked for the firm founded by his father Patrick Gifford that exists today as the amalgamated firm of Gillespie Gifford & Brown (LLP) in Castle Douglas. He worked there as a procurator fiscal, depute clerk of peace, secretary to the local National Farmers Union and a member of the Town Council. Recognised too as a talented sports person in tennis, rugby, skiing, and cricket, he had a love of fast cars, driving between Castle Douglas and Edinburgh.
He joined 603 (City of Edinburgh) Auxiliary Air Squadron based then at RAF Turnhouse, gaining his wings as a pilot in 1932. Then, on 16 October 1939, as a flight lieutenant, while flying in a squadron, he pursued Luftwaffe Junkers 88 that were targeting Royal Navy ships in Forth. He fired the last shots at one of the German planes, causing it to crash in the sea near Prestonpans in East Lothian. His award of the DFC followed as did promotion to command a RAF squadron.
In conclusion, we can perhaps turn to the First World War and Lord Balfour's speech on 19th February 1923 at the unveiling of Edinburgh University's War Memorial. He recognised the war had caused the loss of many men "who would have been great statesmen, great poets, great writers, great thinkers, leaders in science, leaders in religion, leaders in social effort". The Second World War was no different in acknowledging the loss of many including those from the legal profession.
Vivere nos doceant qvi didicere mori – may those who learned how to die teach us how to live.