Four promoted at Blackadders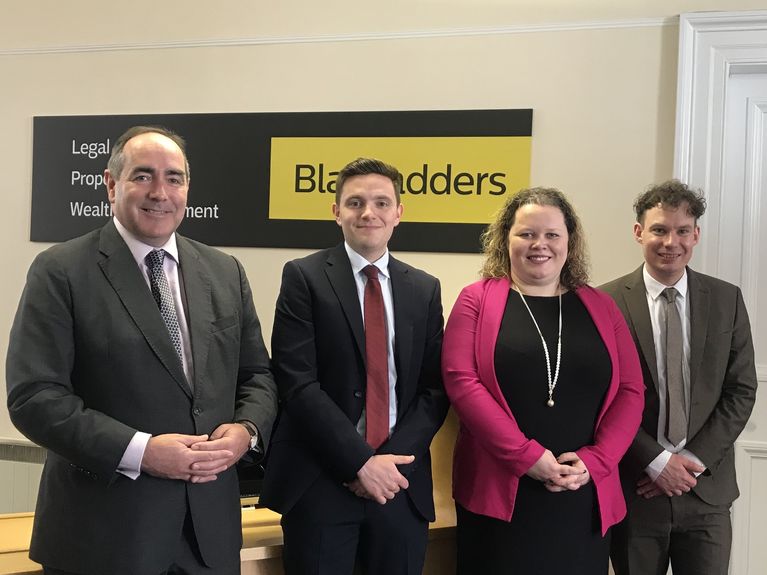 Blackadders Solicitors has announced four promotions across its Scottish offices.
Jack Boyle and Siobhan McGuigan become legal directors while John Dargie and Jamie Robertson take up the role of associates.
Mr Boyle joined Blackadders as a trainee in 2009. With a particular focus on contentious employment law, he regularly represents employers and employees at employment tribunals.
Based in Blackadders' Glasgow office, Ms McGuigan joined the firm's private client team in 2016. She is experienced in dealing with a wide range of matters including executries, wills, trusts, powers of attorney, guardianships and conveyancing issues.
Mr Dargie's promotion to associate comes quickly after his promotion last April to senior solicitor. Also a member of the private client team, he joined Blackadders' in 2013 and has considerable experience of succession planning matters as well as a growing interest in mental health and incapacity law.
He is based at the firm's Aberdeen office alongside Mr Robertson who joined the firm's residential conveyancing team in 2017. He has more than 10 years' experience in residential property, specialising in both the Aberdeen and Angus property markets.
He is a tutor on Aberdeen University's Diploma course and part of the management committee for the Society of Advocates in Aberdeen.
Managing partner at Blackadders, Johnston Clark, said: "It is essential that we continue to develop and reinvest in our staff to ensure that we are offering our clients the best possible service.
"These promotions are indicative of that commitment and each is well deserved. I offer my congratulations to all of them on their promotions and wish them success in their new roles."