England: Judges urged to learn use of emojis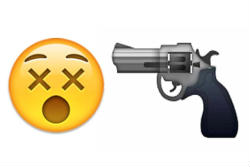 Senior lawyers have urged judges to learn the meanings of emojis, symbols used in instant messaging applications.
The digital images are appearing in more and more criminal, family and employment hearings.
Many emojis have sexual connotations, such as the aubergine, while others are used for drug deals and prostitution.
Felicity Gerry QC told The Times there was a need for a unified judicial approach to the meaning of emojis.
She warned that there was a risk "emoji communications will be wrongly interpreted by lawyers leading to misdirections by judges. This could impact on the meaning of sexual communications or communications between those accused of plotting murder or terror offences."
"Emoji use within evidence is becoming more frequent as technology embraces new ways of communicating, so courts will have to find a way to adapt," Natasha Phillips, a child law expert, said.
Priyan Meewella, a litigation lawyer at Bird & Bird, added: "Like any colloquial language, judges are going to require explanations for the intended meaning."
'Emoji' is a Japanese word formed from e meaning 'picture' and moji meaning 'character'.