DWF pays Gratitude to front line workers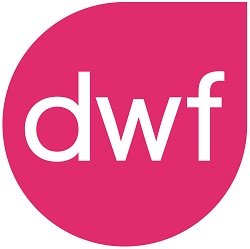 DWF is saying a collective 'Thank You' to front line workers for their dedication during the pandemic, by supporting the Gratitude campaign to raise funds for NHS Charities Together.
Gratitude, a touring art installation by global public art producers Wild in Art, is a collection of 51 individually painted human form sculptures, all designed by individual artists from across the UK, and curated in partnership with creative ambassador Dame Zandra Rhodes.
The collection is visiting Edinburgh from 17-26 September.
The sculptures represent front line workers such as NHS staff and other key workers standing together, but socially distanced, and people are invited to come together to reflect and show their appreciation as the art installation tours four UK cities, where they will be able to make a donation. The sculptures will be at Newhailes House and Gardens, Edinburgh from 17th – 26th September.
Following the tour, the sculptures will be auctioned with substantial proceeds donated to NHS Charities Together (Registered Charity Number 1186569), which supports the NHS, including its hospitals, ambulance services, community and mental healthcare providers and vital partnerships.
DWF has chosen to work with artists Dan and Charlotte of Art + Believe who have designed the 'Blanket of Unity' sculpture, sponsored by DWF, which incorporates some of DWF's own vibrant brand colours into the piece.
Wayne Lawrence, office managing partner at DWF in Edinburgh, said: "The Gratitude sculptures are a fitting way to highlight and celebrate the contributions of many people on the front line during this unprecedented time including our NHS workers.
"Many key workers have worked through stressful and sometimes life-threatening circumstances and some have even lost their own lives. So many people have put others first to ensure we get through this difficult time and this is why we are proud to support Gratitude. Collectively, we can say thank you to all key workers and volunteers while raising money for the NHS Charities Together."
Those wishing to visit the Gratitude installation can book free tickets now to visit Gratitude at Newhailes House and Gardens. Visit https://thisisgratitude.co.uk/tickets/ for more information.