Domestic abuse incidents rise by two per cent to 61,000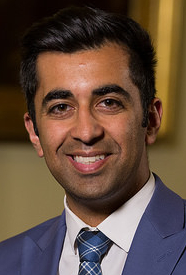 Police recorded 60,641 incidents of domestic abuse in 2018-19 – a two per cent rise on the previous year, new figures show.
Levels of domestic abuse recorded by police in Scotland have remained relatively stable since 2011-12, with around 58,000 to 61,000 incidents each year.
In 2018-19, 41 per cent of incidents of domestic abuse recorded by the police in Scotland included the recording of at least one crime or offence. Where gender information was recorded, around four out of every five incidents had a female complainer and a male accused.
Justice Secretary Humza Yousaf said: "Domestic abuse exacts a terrible toll on victims and often causes much wider harms, such as impacting on children's safety and well-being within the family home.
"While these figures are for the year before our domestic abuse laws came into force, the passage of that legislation in 2018 alongside Police Scotland's 'Every 9 minutes' campaign, helped raise awareness of this insidious crime and its many facets and encouraged people to report their experiences.
"Domestic abuse is neither acceptable nor inevitable. We must work collectively – as parents, friends, co-workers and legislators – to bring an end to this blight on society, address underlying attitudes that enable it to persist, call out those who dismiss or minimise its impact, and ensure that perpetrators are dealt with robustly and effectively."
Dr Marsha Scott, chief executive of Scottish Women's Aid said: "With these figures we must bear in mind that reports to police are merely the tip of the iceberg when it comes to domestic abuse. We know that women are very often reluctant to report for fear of what will happen to them, and to their children. So, while the figure of 60,641 reports is shocking in and of itself, it becomes even more upsetting when you consider it is a fraction of the abuse actually unfolding across Scotland right now.
"Looking at the trend across 10 years, we can see that we have much more work to do when it comes to ending domestic abuse in Scotland. It lies with all of us – police, judiciary, services, individuals and the government – to change the landscape for women and children experiencing this daily fear, including those who never report it to the police."