David J Black: Book Festival reputation 'unjustly tainted'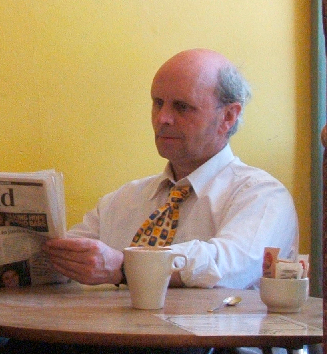 David J Black reads the fine print of the Book Festival furore.
Many of us may share the underlying views of those who believe we should be cutting back on the use of fossil fuels to save the planet, but scratch beneath the indignant morality of the latest attack by a number of Greta Thunberg inspired authors on Edinburgh Book Festival sponsor Baillie Gifford, and all is not what it seems. A little perspective is called for in this case.
First of all it should not escape our attention that these people are trying to sell their books. Lord Byron must have been thrilled when he woke up famous (sorry, I have just broken a pledge never to use the word 'woke') yet we should remember that he achieved that particular outcome by writing Childe Harold's Pilgrimage, an instant literary sensation. This is not to say he didn't do causes, like Greek independence, or have the odd petulant outburst; only that it was literary genius which made him a celebrity rather than a song and dance act about some attention-grabbing hot Regency issue.
In any event the majority of the initial 50 names (now topping 100) which accompanied Mikaela Loach's Exocet missive on the subject of Baillie Gifford's declining holdings in the petrochemical sector consisted of relative unknowns in need of a bit more name recognition, though this scrivener did clock one or two, like Zadie Smith, last year's Baillie Gifford prizewinner for non-fiction Katherine Rundell (will she be handing back her £50,000 award?) and, surprisingly, Jessie Burton, who writes extremely well on Dutch dolls' houses. I would have expected better of her.
Another signatory, author and journalist Rachel Connolly, once turned out an amusing Guardian article about the Oxford English Dictionary's 'word of the year' which was actually two words – 'goblin mode'. This was an expression of which she (like me) was blithely unaware, or at least she'd never heard it used, and she fixed it, correctly, as "a stunt trying too hard to go viral". Call me unenlightened, but surely this precisely sums up Greta and Mikaela's daft attack on the book festival. It also fits remarkably well with the OED dictionary definition of 'goblin mode', namely: "A type of behaviour which is unapologetically self-indulgent."
Let us focus on the malcontents. How did these people travel to Edinburgh in the first place? Did any of them take a flight, or drive in petrol/diesel vehicles? Have they helped to gouge our local housing stock by renting flats from Airbnb? Do they eat hot cooked food prepared on gas cookers? Most important of all, why have these virtuous paragons, mostly emanating from the orbit of trendy London or Oxbridge (though Ms Loach is a denizen of trendy Brighton) taken it upon themselves to target Edinburgh's 40-year-old book festival, which can only be damaged as a result?
The global green agenda is, sadly, prone to much abuse. Multinational corporations now portentously trot out ESG and social responsibility policies, while mouthing sustainability as a disingenuous greenwash to cover their tracks, though Fortune magazine has recently exposed much of this fallacy. In our own backyard TIAA, the North Carolina based developer of Edinburgh's odious Golden Turd hotel, has won something called the 2023 'Ethisphere Award' causing TIAA 'Chief People Officer' Sean Woodroffe to gush "It is such an honor to be recognized by Ethisphere's World's Most Ethical Companies for the ninth year in a row."
Putting aside the fact that US journalist David Lazarus has unmasked the for-profit Arizona-based Ethisphere company as more tame corporate Molly than cuddly green teddy, it should be borne in mind that the whiffy centrepiece of TIAA's St James project, subsidised to the tune of £61.4 million by the sair-oppressed Scottish taxpayer, has atrociously vandalised a UN World Heritage Site.
TIAA, a mega pension fund for US educators and academics, self describes as "a leading provider of outcome-focused solutions" and has profited from the clearing of Brazil's ecologically sensitive Cerrado savannah, not to mention the fact that it upset many of its contributors by continuing to invest in handgun and semi-automatic rifle manufacturer Smith and Wesson after the 2012 Sandyhook primary school massacre in which 26 pupils and teachers died. Ethical? Er, not so sure.
But back to the book festival walkout. If some progressive sociologist with nerves of steel and a career death wish were to deconstruct Greta and Mikaela's pouty tantrum he or she might reach a rather dispiriting conclusion. Far from being liberal and progressive, there is something darkly fascistic and creepily cynical about these unforgiving new exercises in power play, made worse by a tendency to 'Intersectionality', a fad in which all issues are rolled up into one, even if, like transgenderism, race, and low emission zones, they have no discernible connection.
Mention of Brazil's Cerrado could take us down another road – one which leads to Hay-on-Wye, where the sponsors of that towns book festival include Alpro-Soya, whose 'whippable' product Alpro Cuisine Soy was revealed in 2020 to contain a mere two per cent soy, its primary whippable bulking agent being palm oil (25 per cent) which was somehow not listed as an ingredient on the packaging.
Brazil's Cerrado and Amazon rain forests are not the only natural environments being ruined by palm oil plantations which supply the global food, household product, beauty and biofuel industries, and Alpro, admittedly, hasn't sourced palm-oil from South America since 2011, but this is a global issue – the orangutan and Sumatran rhino will probably become extinct outside zoos thanks to the ever expanding, palm-oil monocultures of south-east Asia. Brazil, which last year exported over 570,000 tons of palm oil, intends to up its game. Besides, with yields of 3.3 tons per hectare (compared to 0.4 tons for soy) palm-oil is a profiteer's dream.
True, Hay did enjoy something of a kerfuffle 20 years ago when Nestlé, vendor of powdered milk in the third world, funded the festival's Smarties book tent, otherwise it has largely escaped the moral rectitude of that section of the authorial community which has a need to pontificate. It soon recovered. Edinburgh's equivalent, having relocated from the world's finest outdoor drawing room in Charlotte Square to a pocket handkerchief sized sloping lawn at Edinburgh College of Art, and with much less coverage from Radio 4, may not be quite so resilient.
Under our latest new world order diktat, to step outside the shamanic magic circle by being, say, a traditional feminist who believes in 'safe spaces' for women, is to risk being damned as a Terf (ie a trans-exclusionary radical feminist.) Semantic absurdities abound. For example, when Father Ted scriptwriter Graham Linehan was excluded from a Fringe venue because some disapproved of his views on certain gender matters, the venue, Leith Arches, declared paradoxically that he had to be excluded because of their policy of 'inclusiveness'. The same trick was used to close down MP Joanna Cherry's Stand show but she asserted her rights under the Equalities Act, and won.
The chartered psychologist and sociologist Professor David Pilgrim, who himself fell foul of the intersectional thought police when he tried to publish a paper which the British Psychological Society deemed too controversial, has observed that John Stuart Mill's classic model of enlightened, tolerant liberalism is currently being usurped by the corrosive invective of intolerance seeded by a breed of "new libertarians" who have "become authoritarians at the blink of an eye."
The most dismal aspect of this war on intellectual pluralism in a supposedly advanced democracy is the collusive wimpishness of many of those institutions which seek to mollify this baying band of talibinistas. The most notable local example is the reputational defenestration of the great Scottish liberal philosopher, David Hume, by Edinburgh University, which admittedly has form in the matter – it once turned down the opportunity to employ the greatest thinker of the enlightenment as a professor due to his somewhat ambivalent agnosticism.
Hume, a declared abolitionist and fierce opponent of bigotry, once made an ill-advised comment in the so-called 'unfortunate footnote' in his essay Of National Characters. By prefixing it with the five words "I am apt to suspect" he was making clear that what was to follow was speculation, rather than established fact, but he then went on to earn much 21st century opprobrium by stupidly stating (without any credible evidence whatever) that the black races were "naturally inferior" to the whites.
This would, rightly, not be an acceptable view to hold today, and even in his own time it was criticised, yet considered against the entire body of Hume's work it barely registers. On being lobbied by Elizabeth Lund, a language student from North Carolina (could someone remind me, please, what side that particular state was on in the US Civil War?) the principal crumbled. She had accumulated around 1,800 signatures on a petition, many distinctly 'off-campus', but he succumbed to her entreaties and summarily stripped the David Hume Tower of its name.
As luck would have it, he did not accept her suggestion that it should be renamed after Edinburgh alumnus Kwame Nkrumah, the revolutionary who led Ghana to independence, and subsequently became a president noted for his militant homophobia and a partiality to imprisoning his opponents without trial. Many academics and students were also deeply unhappy that the university was cravenly divesting itself of its link with Scotland's greatest intellectual giant, some even interpreting it as a move to 'de-Scottify' a university keen to attract more full-fee-paying overseas students.
So what are the attendant dangers of this sort of ad festa ambush on both Baillie Gifford and the Edinburgh Book Festival? The former will of course survive perfectly well, especially since, comparatively speaking, it has a relatively unsullied record, with around two per cent of its total funds under management invested in companies which, on average have about five per cent of their holdings in fossil fuel related activities. In other words 0.01 per cent of all funds are implicated. Compared to the top five banks in the FTSE 100, which lent more than £50 billion to the industry in 2021 – or America's J.P Morgan Chase, which lent more than £60 billion – this is small beer. Moreover Baillie Gifford is running down its activities in this area as and when it's contractually free to do so, with the aim of disinvesting entirely from the sector.
Baillie Gifford is also transitioning from fossil fuel investments to renewables – indeed, one of its top analysts and investment stars, the bookish James Anderson (who went on to co-manage the Scottish Mortgage Investment Trust) was an early, and substantial, investor in Tesla when it was considered a high risk stock. To say that Baillie Gifford is better than most of its equivalents would be something of an understatement.
For this scrivener, the truly tragic thing about this particular stushie is that he agrees with the basic hypothesis. Yes, we really do have to reduce our dependence on fossil fuel, and the world's governments really must do more to meet our global emissions targets. The methodology being adopted by our shoot-from-the-hip diva, Ms Thunberg, and Mikaela Loach and her co-protesters will undoubtedly prove counter-productive.
Those of us who admired Greta Thunberg are now having to reassess her influence. The last-minute cancellation of her Edinburgh appearance was nothing more or less than a calculated act of grandstanding. An hour's due diligence would have established Baillie Gifford's investment record months ago. Much the same may be said of Mikaela Loach, who, lest we forget, has a book to promote. Even so, they are doubtless well motivated people, if wrong-headed in their approach. Some clear thinking might have helped.
The effects on the Book Festival could be dire. Its reputation has been unjustly tainted by a group of guest writers, mostly from outside Scotland, who have chosen to abuse the festival's hospitality. If other sponsors decide to pull out in the face of the recent negative publicity, Edinburgh's internationally renowned book festival would, at best, become a shadow of its former self, and at worse might have to put up the shutters altogether. This diminution of opportunities for Scottish authors will, in essence, be a restraint on the principle of free expression. As the great abolitionist and former slave Frederick Douglass once wrote: "To suppress free speech is a double wrong. It violates the rights of the hearer as well as those of the speaker."
The outcome of a proposed boycott of Edinburgh's book festival could be devastating for the rising generation of Scottish authors, as well as the country's publishers and booksellers. Author and playwright David Greig clearly appreciates this point. "I am far from alone in the arts echelon in Scotland in thinking this is both counter-productive and shortsighted."
Book festival director Nick Barley, who follows in a long line of directors going back to the inspiring Jenny Brown and Catherine Lockerbie, among others, has sought to ameliorate the haranguing mob by suggesting they "talk".
To this accommodating reasoning a mild mannered and commendably liberal lawyer friend suggested only the other day. "Yes, it should be a two word conversation, the second word of which should be 'off'."
I really can't think what he was talking about.