David Adams joins Compass Chambers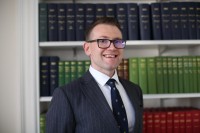 Advocate David Adams has joined Compass Chambers.
Mr Adams called to the Bar in 2018 after eight years in practice as a solicitor, rising to senior associate with a Glasgow litigation firm.
His practice focuses on crime, fatal accident and public inquiries, road traffic prosecutions and road transport licensing. He also has experience of commercial disputes, insolvency, medical and professional negligence and personal injury.
Mr Adams has appeared in Fatal Accident Inquiries, proofs and trials in the High Court and Sheriff Courts throughout Scotland. He has also appeared before local authority licensing boards and the Traffic Commissioner for Scotland in several public inquiries relating to HGV and PSV operator licences as well as driver conduct hearings.
Compass practice manager Gavin Herd said: "We are delighted that David has chosen to join Compass. He has done very well in his first year at the Bar and we are sure he will continue that progress in Compass Chambers. He will be a great addition to our regulatory crime team, but also brings experience across our other core areas."