Dame Elish Angiolini QC to lead Everard inquiry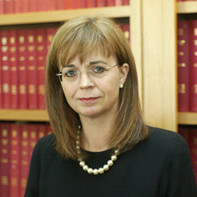 Dame Elish Angiolini QC has been appointed as chair of an inquiry into the rape and murder of Sarah Everard by police officer Wayne Couzens.
The inquiry will establish an account of Mr Couzens' conduct throughout his career, noting any red flags prior to the murder. The second part will look at issues raised by part one.
The inquiry will be non-statutory in order to give Ms Everard's family "closure as quickly as possible".
Home Secretary Priti Patel said the former lord advocate would be given extra powers if she feels unable to fulfil the remit of the inquiry.
She told MPs: "Statutory inquiries can be long-running with limited flexibility, sometimes recommendations are not made for a number of years.
"However, I will not rule out converting this onto a statutory footing should Dame Elish feel that she's unable to fulfil the terms of reference on a non-statutory basis.
"Sarah Everard's life was ended too early by an evil man whose job it was to protect her.
"We owe it to her and her loved ones and her family to prevent something like this from ever happening again."
Dame Elish said: "I am deeply honoured to have been asked to chair this vital inquiry, which comes at a pivotal moment for policing.
"The murder of Sarah Everard was profoundly shocking and I will ensure that the issues raised from this dreadful tragedy are fully investigated and the necessary lessons learned."