The Rev. Alistair McGregor QC
---

---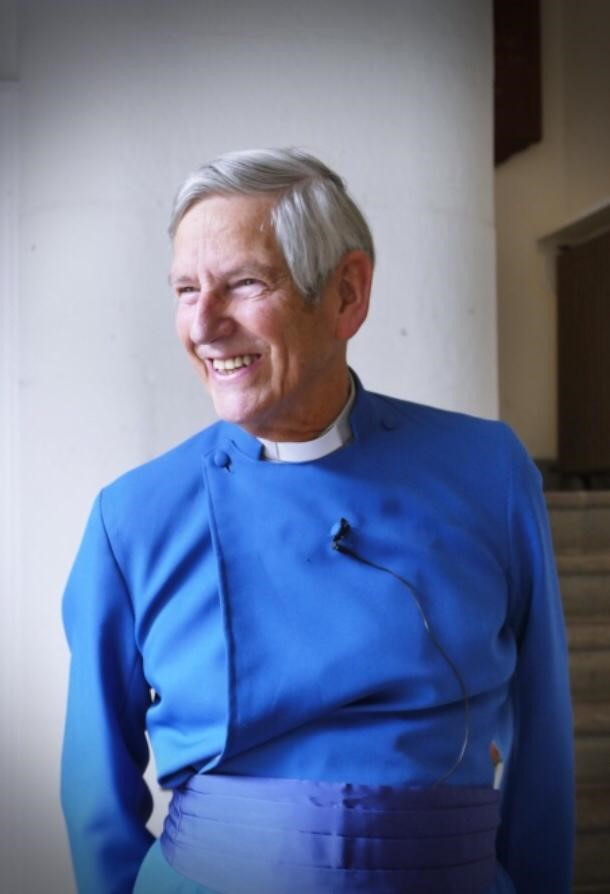 Ian G. Mitchell QC reflects on the life of The Rev. Alistair Gerald Crichton McGregor QC, who was born on 15 October 1937 and passed away on 13 June 2020.
I first met Alistair McGregor in the 1970s when he was junior counsel for the objectors at a long-running public enquiry in Portkill and I was an apprentice solicitor, dispatched to cover the enquiry. Alistair's cross-examination of the witnesses revealed a sharp, forensic mind clothed in a self-deprecating good humour which made him a hugely effective advocate: I knew, instantly, that this was the person to whom I wanted to devil, and so there began not only a professional relationship, but a true friendship which lasted until his death on 13th June this year.
The more I came to know Alistair, the more I appreciated the concern for people which was at the heart of all he did in his life, his calling to the law and then, when his legal career seemed to be set fair to lead him to the very top of the profession, his eschewing of the glittering prizes to turn, instead, to the Church of Scotland ministry. There were many who would have thought twice about such a sudden shift of career, but, for Alistair, it was a characteristic choice, for, as he said at the time, "I did not come into the law to help government departments, but to help people."
But to begin at the beginning: Alistair Gerald Crichton McGregor was born to James and Dorothy McGregor in Sevenoaks, Kent, on 15th October, 1937. He shared a happy childhood with his only sibling, his sister Fiona. Together they shared many experiences and, in later years, shared their wartime memories of seeing enemy planes flying south over Sevenoaks and watching to see if they were shot down.
He was educated at Charterhouse School, Surrey, and from there went on to do his national service with the Intelligence Corps in Krefeld in Germany. Even though his duties included cutting grass with nail scissors and painting coal black, he enjoyed his time in Germany, particularly the opportunity to use his German and to explore the country.
The family had friends in Vancouver, and, when he finished his time in National Service, Alistair went to spend a year with them helping them in their business. He sailed over the Atlantic, travelled across Canada by train and, after his time in Vancouver, returned through the United States by Greyhound bus. The journey was a formative experience for him, leaving him with a love of travel and of adventure which was with him for the rest of his life.
From 1959 to 1961, he attended Pembroke College, Oxford where he obtained a BA in jurisprudence, before moving on to study Scots law at Edinburgh University and graduating LLB in 1964. There followed a period as a solicitor in his uncle's law firm, notable not only for the start of his legal career, but also for his meeting Margaret, to whom he was married in August, 1965.
In 1967, he was called to the bar. He had a highly successful career, and attracted a number of devils who, inspired by his teaching and example, went on to themselves to achieve prominence in the law, including Rita (later Lady) Rae.
For my own part, it was Alistair who shaped and directed my own formation as an advocate, yet, looking back on that time, the moments which come affectionately to mind are the moments when Alistair's sense of fun transformed what might have been, at best, unremarkable, and, at worst, tedious cases: leaving Ayr Sheriff Court at the end of the day and building sandcastles together on the beach; on the way back from Arbroath, trudging, in blacks, through ploughed fields to inspect Ardestie and Carlungie earth houses; standing on the pier at Lochmaddy on a soft summer's evening trying out the procurator fiscal's new Japanese fishing rod; and Alistair, caparisoned in wig and gown coming down the narrow staircase in the Logierait Hotel (the unlikely setting for Perthshire Highland District Licensing Court) declaiming: "Here's Batman!"
It was this sense of humour and of fun working its alchemy on his considerable forensic abilities which earned him both affection and respect from his colleagues and which made him such an effective advocate, qualities which were recognised throughout his career. He was appointed as standing junior counsel to several government departments, a planning enquiry reporter and part-time chairman of the Potato Marketing Board Discipline Committee. Above all, his qualities an advocate were recognised when he took silk in 1982, only a year before he changed career, to take up his studies at New College from which he graduated BD in 1985, though his legal background enabled to him to take up a classier student job than his fellow students could aspire to: appointment as a temporary sheriff.
Following his training, he was called as minister of North Leith Parish Church, a position which he held until his retirement in 2002. His time as minister of that charge is fondly remembered by his former parishioners who recall, above all, the genuine warmth of his friendship for them, the way that he stood by them in their own hard times, bringing comfort and support. This, of course, was the natural outworking of his concern for others and his calling to serve them. Following his retirement, he joined the outreach team of St. Andrew's and St. George's West, where he worshipped.
This calling manifested itself in the context of the Church of Scotland from the time when he first came to Edinburgh in 1964 right on until he was well into retirement. He served as an elder and depute session clerk at Palmerston Place Church, a member of the Church of Scotland Board of Social Responsibility and a co-author of the Report on Obscenity, a member of the Board of Practice and Procedure, and convenor of the Legal Questions Sub-committee, a member of the Church and Nation Committee, convenor of the Judicial Commission of the General Assembly, and, latterly, a general trustee of the Church of Scotland and a member of the World Mission Middle East Committee, as well as holding numerous appointments with third-sector organisations.
To all of these roles, he brought his customary gentle sense of humour, as ready to laugh at others' wry comments as to make them himself. Colleagues on the General Trustees still recall the time when there was a serious discussion about a church in Glasgow which was subsiding into the sandy soil. One of the members ventured the comment that there was something somewhere about building one's house on sand. There was a chilling silence until Alistair broke it by laughing loudly, and the others followed suit.
His ministry also saw the development of his passion to help the Palestinian people in Israel/Palestine in their difficult circumstances. This was first awakened when, early in his ministry, he led a group from North Leith Parish Church to visit the Holy Land, and developed when, in 1993, he took a sabbatical in St. George's College Jerusalem, where he studied and travelled for three months. The following year, Margaret and he went olive picking together in Israel/Palestine, a place they were to visit on a further six occasions seeking to help and to champion the cause of peace and of justice for the Palestinian people, a cause which saw him becoming involved in Edinburgh in the work of the fair trade organisation, Palcrafts/Hadeel, becoming its chair in 2018.
Yet, serious though these issues were to him, and passionate though he was about these causes, still this serious purpose was leavened by his sense of humour. Margaret recalls Alistair's confident unflappability when they arrived in Jordan at a really cheap and, as Alistair was certain, good hotel which he had found and booked on the internet, but which turned out to be the sort of establishment which more usually rented out its rooms by the hour.
With such a remarkable and energetic public life, Alistair was, yet, very much a man devoted to his family. He was a loving brother, husband, father and grandfather. His personal life was touched by the tragedy of outliving two of his three children, but, hard though this was to bear, yet still, Alistair lived his life for all of those others, the people in Scotland and in Palestine and elsewhere, whom he felt called upon to love and to serve.
He passed peacefully away at home on 13th June, 2020, in the presence of his immediate family, mourned by Margaret, his sister Fiona, his son Euan, and his three grandsons, Connor, Kieran and Alexander; and by all of us whose lives he touched.
In Umberto Eco's The Name of the Rose, there's an old monk, Jorge de Burgos, who refuses to believe that Christ ever laughed. One needs only to look at the joyous life of Alistair McGregor to see that could never be true.