Steven Thomson wins Innovation Cup with his Notice to Quit Calculator
---

---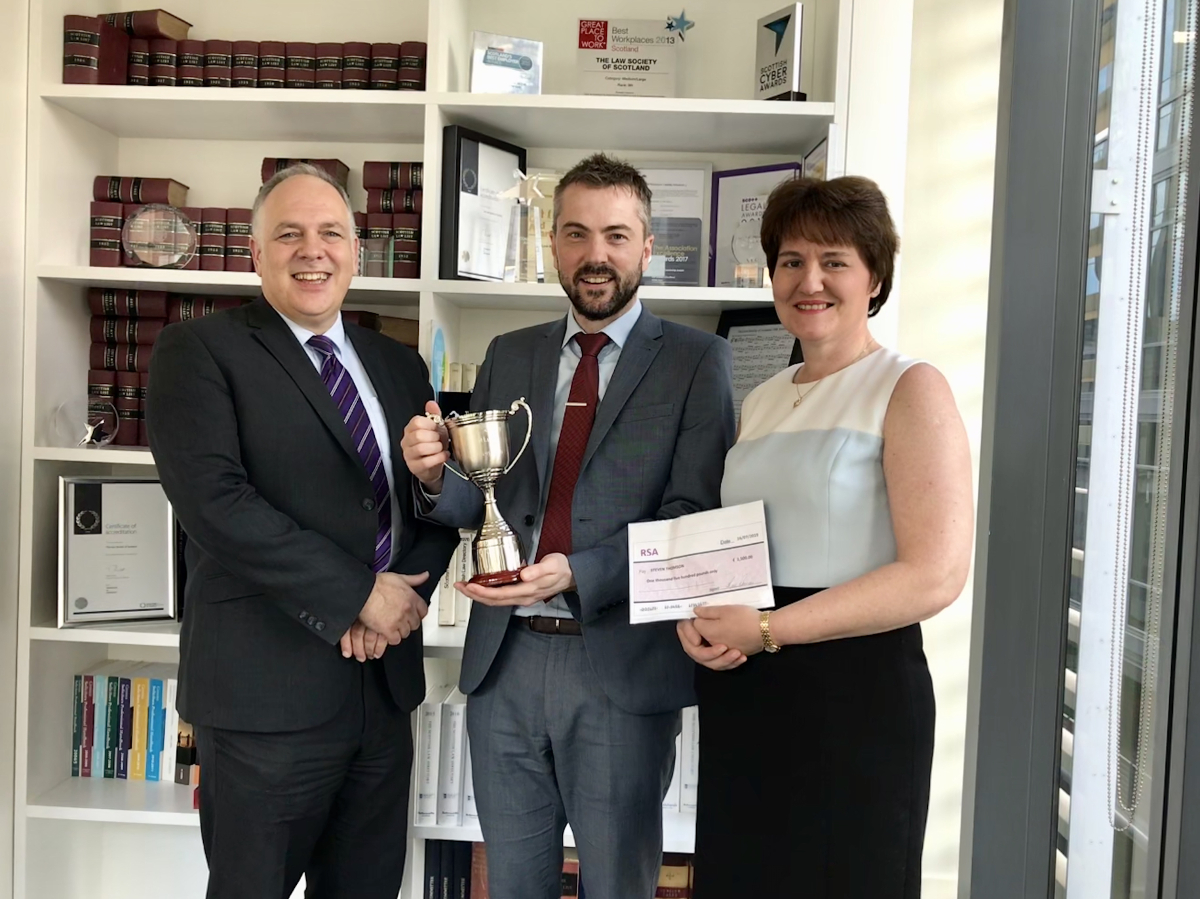 A tool designed to help solicitors when preparing to terminate commercial leases at the end of their contractual term is the brainchild of an Edinburgh solicitor who has won this year's Innovation Cup.
Now in its second year, the Innovation Cup is a competition run jointly by the Law Society of Scotland; master policy insurers, RSA and brokers, Lockton, and invites legal professionals and law students to share their bright ideas for risk management processes and strategies.
Steven Thomson, a senior associate at Morton Fraser who specialises in commercial real estate and also heads up the firm-wide innovation team, highlighted the potential risks surrounding the serving of 'notices to quit' for commercial leases, including the complexity of the law in the area and the differences in the timescales required for serving the notice depending on whether or not the solicitor is acting for the landlord or the tenant.
Failure to serve these notices correctly and timeously could leave the legal advisers open to a claim for professional negligence.
Mr Thomson's winning entry, the 'Notice to Quit Calculator' would allow for the solicitor to input all relevant details for the lease, including whether or not the firm is acting on behalf of the landlord or the tenant, start and expiry dates. The app would then calculate the relevant notice period and highlight the last possible date that the notice to quit should be issued on.
Murray Etherington, convener of the Law Society of Scotland Insurance Committee, said: "Risk management is at the very heart of maintaining a strong and robust Master Policy for the profession.
"The Insurance Committee are dedicated to a rigorous risk management programme and the Innovation Cup allows us to bring risk management to the forefront of all practitioners minds, inspiring new ideas and innovative techniques to minimise risk, with the ultimate goal of improving strategies across the legal profession."
Edward Ambrose, RSA's Scotland Regional Manager, said: "We were very impressed by Steven's idea for the 'Notice to Quit' calculator. It is a highly complex area of law, and this tool will ensure that the solicitor can get the law right every time. It was a really well thought out entry and my congratulations to Steven."
Mr Thomson said: "I am delighted to have won the Innovation Cup. Having worked in commercial real estate for 12 years, I have seen at first hand the pitfalls that can be so easily fallen into and I truly believe this tool will be of great benefit to the profession and help to minimise any potential professional negligence claims. We've been using a prototype of the calculator for a couple of years, but I'm really excited about seeing it done properly!"
The Notice to Quit Calculator will be will now be developed by Lockton and RSA into a practical application for members in private practice. Mr Thomson received a £1,500 cash prize provided by RSA at a presentation at the Law Society in Edinburgh.