Renewed calls for higher judicial retirement age as Lord Sumption departs from Supreme Court
---

---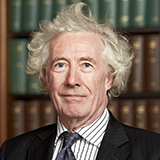 Lord Sumption's retirement from the Supreme Court this week has triggered renewed calls for the age at which judges must leave the bench to be raised, The Times reports.
Lord Sumption caused a stir after he was elevated to the Supreme Court straight from the bar in 2012.
Seventy-three-year-old Lord Grabiner QC delivered a farewell to the judge at his valedictory ceremony, saying: "As a justice of the Supreme Court you have not had much time but, as always, you have made your impact.
"The pity is that just as you are about to reach the age of intellectual maturity — and I speak from personal experience — you are required to retire.
"Fortunately the rules permit you to be invited to sit from time to time for another five years but I think it is time the age provisions were amended."
In May 2017, Lord Neuberger, former head of the court, called for the retirement age to be abolished, saying it led to a "huge loss of experience and talent".
He added: "Furthermore, the situation is demonstrably illogical as judges who must retire at 70 are able to sit as part-time judges until reaching 75, and people can be jurors until 75."
Former Lord Chief Justice, Lord Woolf, told The Times in March: "The recruitment problem of judges is going through a difficult period. There are a number of reasons, including the reduction of the retirement age from 75 to 70.
"I have supported unsuccessful efforts for this decision to be reversed, but if it cannot be reversed for everyone, it should be reversed for those in the top jobs, heads of divisions and Supreme Court judges."