Police chief cleared in firearms misconduct probe
---

---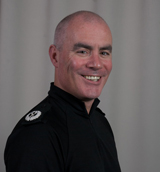 A police chief has been cleared over claims of improper use of the force's firing range, The Herald reports.
The Scottish Police Authority (SPA) has rejected claims against assistant chief constable Bernie Higgins 14 months after was temporarily suspended.
Callum Anderson, a partner at Levy & McRae Solicitors and ACC Higgins' spokesman, said: "ACC Higgins has always maintained that his actions were entirely appropriate. He is pleased to have been exonerated and found to have no case to answer.
"The protracted process initiated by anonymous allegations has taken 14 months to conclude. ACC Higgins could have retired last summer, but he was determined to demonstrate that the allegations were without foundation and maintain the reputation that he has built up over 30 years of public service.
"He is grateful for the support he has received from his family, friends, colleagues and members of the public."
ACC Higgins was suspended in late 2017 for over three months over claims of criminal behaviour and gross misconduct, both of which he denied.
The suspension was made after the Police Investigations and Review Commissioner (PIRC) sent reports to the SPA and the Crown Office. Among the allegations made against him were that he illegally discharged a firearm at the firing range at Jackton, near East Kilbride.
A criminal probe into the alleged incident was closed last year but he still faced a misconduct probe, which has now cleared him.
A SPA spokesperson said: "Matters have been considered and concluded in respect of this officer. We won't comment further on this case."
A Police Scotland spokesperson said: "We are aware that all matters against ACC Higgins have been concluded and the matter is now closed."