John Scott QC granted extension for Miners' Strike review
---

---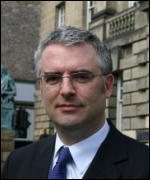 Extra time has been granted to John Scott QC to complete his review on the impact of policing on affected communities in Scotland during the miners' strike in 1984/5.
Mr Scott sought an extension on the original target date of June 2019 to August, "to do justice to the considerable evidence which has been submitted to the review".
Justice Secretary Humza Yousaf has granted the request.
In his interim report, Mr Scott says individuals gave "powerful and moving testimony" about how their lives have been affected by the strike, "especially those who were arrested, charged, prosecuted, convicted and sentenced".
He adds: "Some were remanded in custody, especially if they were already on bail for similar allegations connected to the strike. Most were simply fined. Some were acquitted. Many lost their jobs, with their employers appearing to take a policy decision to dismiss regardless of the gravity of the allegation or the penalty imposed.
"Some of these men secured employment elsewhere, sometimes quickly but sometimes only after years. Some, especially because of having to declare their conviction, were unable to find other jobs. For some individuals and their families, the lasting damage was obvious. The meetings confirmed that, as a result, strong feelings persist on the subject of the 1984/85 strike and its policing."
The Scottish government has arranged an invitation to tender to assist in analysing the 108 responses and notes from the public meetings, which it is hoped will be published along with the final report.
Mr Yousaf said: "I welcome the interim report and in particular the positive engagement undertaken with key individuals, representative organisations and those employed in the mining industry and police at the time, their wider families and communities.
"This is reflective of the strength of feeling still present within our mining heartlands. That is why it is important that careful attention is applied in analysing the evidence gathered.
"In light of the extent of this evidence, I have agreed to a request from John Scott for the review group to be given a short extension."