Feminist legal academics deliver six workshops across Scotland in 200-mile cycle tour
---

---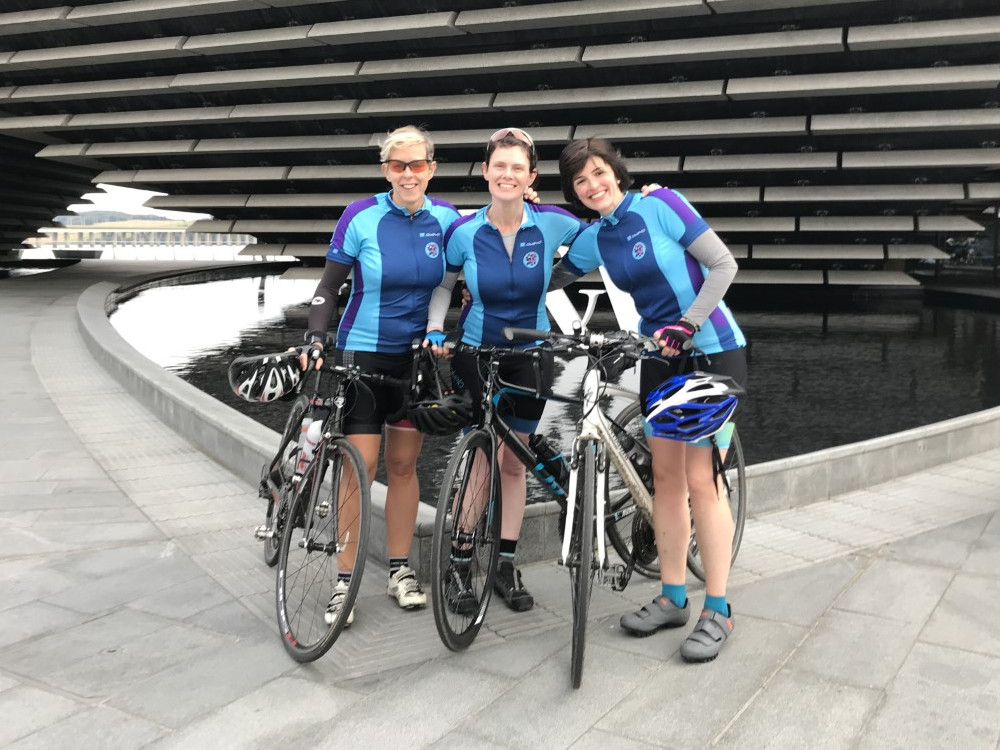 A trio of feminist legal academics visited four cities, delivered six half-day workshops and raised over £5,000 for charity over the course of a mammoth 200-mile cycle tour of Scotland.
Professor Sharon Cowan, Dr Chloë Kennedy and Professor Vanessa Munro, the co-ordinators of the Scottish Feminist Judgments Project (SFJP), made their way from Glasgow to Edinburgh, Dundee and Aberdeen by bike.
The SFJP encourages legal academics and lawyers to re-imagine the processes and outcomes of judging. Its team of "feminist judges" rewrites key Scottish judgments from a feminist perspective, which law students were invited to try themselves at a series of workshops.
Two of the project's judges, Professor Nicole Busby and Dr Claire McDiarmid, as well as artistic collaborator Sofia Nakou, joined the first two workshops at Strathclyde Law School, which were also open to law students from Glasgow, GCU and UWS.
Feminist judge Dr Emily Postan, Professor Clare McGlynn and creative collaborator Jay Whittaker joined the two workshops at the University of Edinburgh, which were also open to students from Heriot-Watt and Stirling.
The Dundee workshop, open to students from the University of Dundee and Abertay, was joined by feminist judge Professor Pamela Ferguson, social sciences lecturer Dr Sophie Rigney and creative collaborator Jess Orr.
The final workshop in Aberdeen, attended by students from the University of Aberdeen and Robert Gordon University, was joined by feminist judge Dr Ilona Cairns, Professor Greg Gordon and senior lecturer Malcolm Combe.
Speaking to Scottish Legal News, Professor Cowan said the tour – during which the trio also raised more than £5,000 for Scottish Women's Aid, Scottish Trans Alliance and Rape Crisis Scotland – "was an incredible experience".
She said: "Law students across Scotland were asked to undertake feminist legal analyses of individual cases, and to try out rewriting parts of the judgments from those cases, from a feminist perspective. They also tried their hands at producing a creative response to the judgments, including finding visual images or writing poetry or a fictional narratives, inspired by the case.
"It was exhilarating to see how deeply engaged the students were with the idea of seeing law from different perspectives. This shows that there is real potential for critical projects like this to help shape our future legal profession, cultivating not only the necessary skills of close legal analysis and legal writing but also empathy and compassion."
Dr Kennedy said student feedback on the workshops was "overwhelmingly positive" and students showed an interest in attending more sessions. Several students suggested that feminist judgments teaching should form part of the curriculum for law students, she added.