Donald Findlay QC and prosecutor Allan Nicol produce audiobook on Scots serial killer
---

---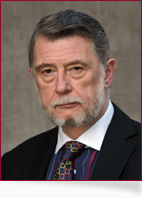 Donald Findlay QC has narrated an audio book on the life of Scottish serial killer Peter Manuel, The Herald reports.
Manuel was executed in 1958 at the age of 31 following one of the most famous trials in Scottish legal history and a killing spree that saw at least eight people die.
Allan Nicol, a former prosecutor, has authored a book about the killer which Mr Findlay has now recorded as a spoken word version.
The 14-hour book is entitled Manuel: Portrait of a Serial Killer.
Mr Findlay said: "The Manuel case fascinated me since I was a child. As a seven-year-old I read every word that was reported.
"The challenge of representing someone faced with so many serious charges is one of the reasons I became a defence lawyer.
"When I discovered Allan also had a similar interest I encouraged him to write the book. He produced the definitive work on the man who was arguably Scotland's only ever true serial killer.
"Again, Allan came up with the idea and we decided we should embrace modern technology and produce the audiobook.
"Initially, and naively, we thought a two or three recording sessions might suffice. Instead, it took over 14 hours."
He added: "The book paints a vivid picture of the man and the times in which he lived. It was quite a challenge attempting to recreate this in the audio version.
"But it was a challenge I relished and I am very grateful to Allan for the opportunity. We both hope that people will enjoy listening to the Manuel story."
Mr Nicol said: "As both of us have an interest in the Manuel story, Donald did the foreword in the book, it is something we worked on last year and was only uploaded to Amazon on January 1.
"It's been a long haul but at over 14 hours running time, it was always going to be a bit of a marathon.
"There are dramatic sections such as when sentence was passed in court and the chapter dealing with the execution which I think are particularly suited to Donald's voice.
"It's only been on the market a few days but is selling well."