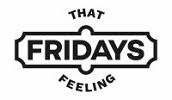 Edinburgh
Office based
Now serving… That Fridays Feeling.
Fridays first opened in New York in 1965 with flowing cocktails and charismatic bartenders making every night feel like a Friday. Over 55 years later, we are making Friday's famous again and proudly celebrating our heritage with simple, freshly made to order dishes with top-quality ingredients, vibrant new and classic cocktails full of energy and theatre, all handcrafted by our expert bartenders. All of which is complemented by consistently brilliant and iconic Friday's service and spirit of generosity. Find out more – www.tgifridays.co.uk.
Fridays is now part of Hostmore plc. Hostmore group is a growing hospitality business with current operations focused on casual dining brand, Fridays, and cocktail-led bar and restaurant brand, 63rd+1st. Established in 2021, Hostmore has been created to provide a platform for the development of hospitality brands under the leadership of an experienced team that has a track record of building businesses in the hospitality and leisure sectors.
Hostmore's businesses are defined by iconic brand experience, vibrant heritage, and sector-leading technology. Its strategic focus is on optimising its brands, aligning those brands with evolving consumer demands, and delivering personalised customer engagement – all backed up by a redesigned digital platform. Hostmore plc is listed on the London Stock Exchange. Find out more - www.hostmoregroup.com
The role:
As a Group Legal Counsel, you will be accountable for providing support to the business on all aspects of legal work, offering counsel on legal issues and facilitating the development of business strategies, whilst overseeing and maintaining legal compliance and limiting risk and potential exposure.
Your primary focus will be on assisting with commercial contracts but, in addition, you will be expected to provide support on a broad range of other legal matters including data protection, employment, IT/IP and property issues, as well as M&A and other strategic transactions.
The Group Legal Counsel will be a key member of the Legal Team and report directly to the General Counsel and Company Secretary.
If you are looking for an in-house role that gives you autonomy in a successful team and growing organisation, where your advice and guidance is highly valued and will contribute directly to the success of an ambitious business, please read on, and apply!
What will you be doing?
Drafting, negotiating, and advising on a wide range of commercial work in respect of all aspects of the business including:
▪
supply and/or manufacture agreements
▪
IP matters, including licensing
▪
Ensuring compliance with corporate governance as part of any transaction.
▪
Identifying and advising on data protection issues in the context of commercial contracts.
▪
Supporting on M&A and strategic transactions, for example in respect of due diligence or commercial arrangements.
▪
Liaising and managing external counsel effectively from a delivery, risk, and cost perspective; and
▪
Developing and providing training and legal updates to the business on various areas of the law and regulatory matters.
About you?
▪
Qualified Solicitor/Barrister with approximately six plus years PQE as a general commercial lawyer (but this does not preclude applications from those with
more or less PQE
).
▪
Ideally will have trained with a leading law firm or well-respected in-house team with a particular focus on commercial transactions.
▪
Experience in data protection / privacy issues is highly desirable.
▪
Excellent level of domestic experience drafting, negotiating, and advising on a wide variety of commercial contracts, including, without limitation, master service agreements, and general terms and conditions.
▪
Demonstrable experience of being able to identify, assess and prioritise risks with sound commercial awareness.
▪
Can work to deadlines and to manage competing demands from various stakeholders.
▪
Experience of communicating with people at all levels from hands-on operational workforces to board level.
About the Brand
With a fun, lively working environment, competitive salary and other benefits, Fridays offers a not to be missed work opportunity. At Fridays we deliver the best that we can to our guests, and this is only possible due to the hard work of our teams. We are passionate about ensuring our teams are well and truly looked after and developed.
Fridays is an equal opportunities employer and as such makes every effort to ensure that all potential employees are treated fairly and equally, regardless of their sex, sexual orientation, marital status, race, colour, nationality, ethnic or national origin, religion, age, disability or union membership status.
To apply please visit - Applicant Portal (elementsuite.net)