Criminal Defence Solicitor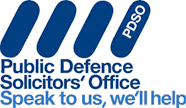 We are currently seeking to recruit a Criminal Defence Solicitor within the PDSO Aberdeen. Our clients are often vulnerable, seeking help with a wide range of serious criminal justice problems at particularly stressful times in their lives. Can you help us change their lives for the better?

We are looking for qualified solicitors, ideally with at least one year's experience of criminal court work and advising and assisting suspects in police detention. You should have an in-depth working knowledge of the criminal justice system and legal aid and be able to demonstrate a sound technical ability as a criminal court practitioner.
If this sounds like you, we'd love to hear from you!
Starting salary is:
Grade 5 £36,690 – £39,460
Grade 6 £41,140 - £46,940
Grade 7 £49,420 - £57,490
plus £5k allowance
About us
The Scottish Legal Aid Board (SLAB) was set up in 1987 to manage legal aid in Scotland. We are a non-departmental public body responsible to the Scottish Government. Our main purpose is to manage and continuously improve publicly funded legal assistance and to advise Scottish Ministers on its strategic development for the benefit of society.
The Public Defence Solicitors' Office (PDSO) is a national network of not for profit solicitors providing criminal legal assistance across eight offices throughout Scotland. Employed by the Scottish Legal aid Board, we advise and represent legally aided clients with summary and solemn cases in Scotland's busiest courts at every level.
Further information about the Scottish Legal Aid Board, including who we are and what we do, can be found at www.slab.org.uk. Further information about the PDSO can be found at www.pdso.org.uk.
Why work for us
We are an ethical organisation, carrying out rewarding work that can have a considerable impact on clients' lives.
We seek high calibre people and in return, we set out to provide good training and development with rewarding working conditions. We aim to be an 'employer of choice'. Should you come to work with us, you'll discover that no matter what your job or level of responsibilities, you are treated as an individual, with fairness, dignity and respect.
Our stable and secure reward package includes:
A competitive salary with potential for pay progression
Flexible working arrangements and a great holiday entitlement of 34 days per year (inclusive of public and privilege holidays) increasing after five years of continuous service
A defined benefit pension scheme with a 6% employee contribution
Job security in a stable environment for long term career progression
Support from colleagues within a rewarding, positive work culture
Opportunities for learning and development while making a difference with challenging tasks for ultimate job satisfaction.
To find out more about working with SLAB and our benefits, please click here.
About the role
Your main focus will be to provide high quality criminal legal defence services in the summary and solemn courts, and at police stations - both as a nominated solicitor and duty solicitor. Our clients are all eligible for legal aid: we don't do privately funded work.
This is an exciting time to be joining PDSO, as we consider how best to develop and design our service to meet the diverse needs of our clients. First and foremost, we do this through fearless, professional and skilled criminal defence, but increasingly we are thinking more broadly about how our work can respond to our clients' wider support needs. This might involve building links with other agencies or developing a trauma-aware, person-centred approach.
This post is permanent on a full time basis.
If you are applying for a full time position on a part-time basis (less than 37 hours per week), please give details of the number of hours and pattern of part time work you would be interested in. Further details are supplied in the 'General Information for Applicants' document.
We welcome and encourage applications from diverse backgrounds, including groups currently underrepresented in our workforce.
For more details about this role and a full list of essential criteria and required competencies, please see the 'Additional Information' section on the vacancy page of our recruitment portal.
Completed applications should be returned by Monday, 3 April 2023 via SLAB's recruitment portal.