Scottish Young Lawyers' Association AGM
---

---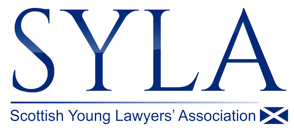 The Scottish Young Lawyers' Association will be holding its annual general meeting at 6pm on Thursday 27 May 2021. The meeting will be held via Zoom.
All SYLA members are welcome to attend, however, to allow for distribution of Zoom details, all attendees are required to sign up in advance.
Sign up will close 48 hours before the event.
During the AGM, members will elect a new committee for 2021/22. Members wishing to stand for election should submit an application by way of a 60-second video to mail@syla.co.uk no less than 48 hours prior to the AGM.
Applications received after this time on 25 May will not be accepted. Your video should explain who you are, why you wish to join the committee and what you will bring to the association.
---

---